March 15, 2013
: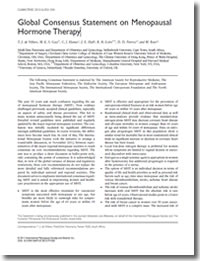 The International Menopause Society has released a Global Consensus Statement on Menopausal Hormone Therapy.
This is a short document endorsed by the major regional menopause societies The American Society for Reproductive Medicine, The Asia Pacific Menopause Federation, The Endocrine Society, The European Menopause and Andropause Society, The International Menopause Society, The International Osteoporosis Foundation and The North American Menopause Society.
The consensus statement was designed to highlight in a dot point format, the points of consensus reached on core recommendations regarding HRT/MHT.
It is aimed to continue to make appropriate prescribing of HRT a less confusing experience for women and their health professionals.

Global Consensus Statement on Menopausal Hormone Therapy42.32 KB
The 12 key points are as follows:
MHT is the most effective treatment for vasomotor symptoms associated with menopause at any age, but benefi ts are more likely to outweigh risks for symptomatic women before the age of 60 years or within 10 years after menopause.
MHT is effective and appropriate for the prevention of osteoporosis-related fractures in at-risk women before age 60 years or within 10 years after menopause.
Randomized clinical trials and observational data as well as meta-analyses provide evidence that standard-dose estrogen-alone MHT may decrease coronary heart disease and all-cause mortality in women younger than 60 years of age and within 10 years of menopause. Data on estrogen plus progestogen MHT in this population show a similar trend for mortality but in most randomized clinical trials no signifi cant increase or decrease in coronary heart disease has been found.
Local low-dose estrogen therapy is preferred for women whose symptoms are limited to vaginal dryness or associated discomfort with intercourse.
Estrogen as a single systemic agent is appropriate in women after hysterectomy but additional progestogen is required in the presence of a uterus.
The option of MHT is an individual decision in terms of quality of life and health priorities as well as personal risk factors such as age, time since menopause and the risk of venous thromboembolism, stroke, ischemic heart disease and breast cancer.
The risk of venous thromboembolism and ischemic stroke increases with oral MHT but the absolute risk is rare below age 60 years. Observational studies point to a lower risk with transdermal therapy.
The risk of breast cancer in women over 50 years associated with MHT is a complex issue. The increased risk of breast cancer is primarily associated with the addition of a progestogen to estrogen therapy and related to the duration of use. The risk of breast cancer attributable to MHT is small and the risk decreases after treatment is stopped.
The dose and duration of MHT should be consistent with treatment goals and safety issues and should be individualized.
In women with premature ovarian insuffi ciency, systemic MHT is recommended at least until the average age of the natural menopause.
The use of custom-compounded bioidentical hormone therapy is not recommended.
Current safety data do not support the use of MHT in breast cancer survivors.
Reference
de Villiers TJ, Gass ML, Haines CJ, Hall JE, Lobo RA, Pierroz DD, Rees M. Global Consensus Statement on menopausal hormone therapy. Maturitas. 2013 Apr;74(4):391-2. doi: 10.1016/j.maturitas.2013.02.001.
Content updated 15 March 2013