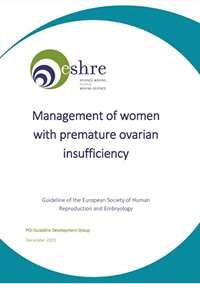 Guideline scope
This guideline offers best practice advice on the care of women with premature ovarian insufficiency, both primary and secondary. The patient population comprises women younger than 40 years (which includes Turner Syndrome patients) and women older than 40 years, but with disease onset before 40. The first chapters of this guideline will elaborate on the nomenclature and definition of premature ovarian insufficiency.
Furthermore, this clinical guideline provides recommendations on the initial assessment and management of women with premature ovarian insufficiency. The initial assessment includes diagnosis, assessment of causation, and basic assessment. The management includes hormonal treatment. Since POI has consequences for health apart from gynaecological issues, these are also described. Consequences of POI and treatment options are included in the following domains: fertility and contraception, bone health, cardiovascular issues, psychosexual function, psychological function, and neurological function.
Other topics discussed are puberty induction, life expectancy, and implications for relatives of women with POI.
This guideline is limited to POI and does not apply to women with low ovarian reserve.

Management of women with premature ovarian insufficiency1.9 MB
Note: This guideline is of relevance to European healthcare providers and women with premature ovarian insufficiency. For the benefit of patient education and shared-decision making, a patient version of this guideline will be developed.
This guideline was developed by a guideline development group (GDG) set up by the ESHRE Special Interest Group Reproductive Endocrinology. The GDG constituted clinicians with special interest in women with premature Ovarian Insufficiency, including an expert in bone health, cardiology, psychology and neurology, a literature methodology expert and a patient representative.
Content updated April 2018