World Menopause Day is held every year on the 18th October. The purpose of the day is to raise awareness of the menopause and the support options available for improving health and wellbeing. We encourage professionals and women to participate in this global awareness raising campaign by printing and sharing these materials, organising events to engage their communities, and sharing World Menopause Day social media posts.
The theme for World Menopause Day 2022 is Cognition and Mood
The October print issue of Climacteric includes Brain fog in menopause: a health-care professional's guide for decision-making and counseling on cognition:

IMS White Paper 2022 Brain fog in menopause1.26 MB.
The paper is also available via Climacteric online with free access here.
From the paper:
Introduction
Cognitive complaints are frequent in midlife women and are associated with decreased quality of life [1]. These cognitive complaints are reliably validated and documented across the menopause transition (MT). Basic and clinical studies show a role for estradiol (E2) in mediating menopause-related changes in cognition [2]. In addition, menopause symptoms, including vasomotor symptoms (VMS), sleep disturbances and mood changes contribute to cognitive difficulties at midlife [3], but there are critical gaps in the data as to whether this period of cognitive dysfunction predicts dementia risk, and whether menopausal hormone therapy (MHT) is protective against late-onset dementia or increases the risk. The theme for the 2022 World Menopause Day is Cognition and Mood, and the goal of this International Menopause Society-commissioned White Paper on cognition is to provide menopause practitioners with an overview of data informing clinical care of menopausal women and a framework for clinical counseling and decision-making for their patients.
The key sections focus on questions commonly raised in clinical care and include the following:
What do we mean by cognitive function and brain fog?
How does cognitive function change in menopause?
What menopause-related factors appear to influence cognition?
What role does MHT play?
What other modifiable risk factors influence cognition at midlife?
What are the generally agreed upon recommendations for optimizing brain health that clinicians can share with their patients?
Read full paper here
Patient Information Leaflet: Brain Fog and Memory Difficulties in Menopause
IMS has produced the Patient Information Leaflet to help women to better understand about cognition and mood.
What is Menopausal Brain Fog?
Menopause brain fog is a group of symptoms that happens around the time of the menopause, including difficulty remembering words and numbers, disruptions in daily life (misplacing items like keys), trouble concentrating (absent mindedness, losing a train of thought, being more easily distracted), difficulty switching between tasks, forgetting the reason for doing something (like why you came into a room), and forgetting appointments and events. Research studies find that women's memory does in fact change at menopause, so these complaints are real – it's not in your imagination. Brain fog is normal and common at midlife. These bothersome problems can affect your quality of life. However, they are usually quite mild and will improve post menopause.
You can download and read the Patient Information Leaflet here

Brain Fog and Memory Difficulties in Menopause3.83 MB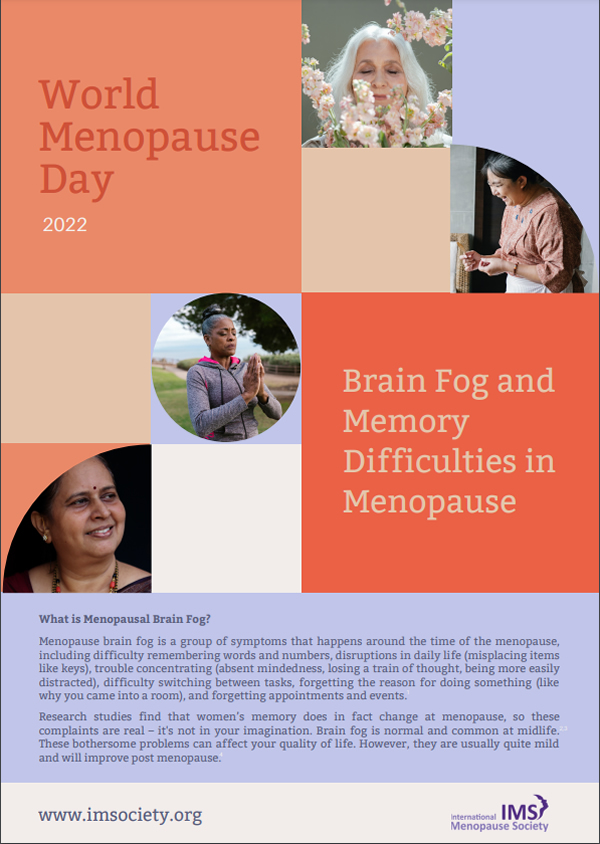 Video for Patients
Prof. Pauline Maki - What women should know about menopause and brain fog - for WOMEN
Dr. Nicole Jaff How to protect your brain health at menopause and beyond - for WOMEN
Videos for Health Professionals
Prof. Pauline Maki - What providers should know about menopause and fog | INTERVIEW SERIES
Dr. Nicole Jaff - What providers should know about protecting brain health at menopause and beyond
Content created October 2022