Join Now
To apply for AMS Membership or to encourage a friend or colleague to apply for AMS membership, go to Membership Application.
Subscription Renewal
You will be automatically emailed four weeks prior to your renewal deadline.
Go to Membership Renewal page by selecting it from the MEMBERS Menu on the Main Menu dropdown.


Or after login select link from right panel.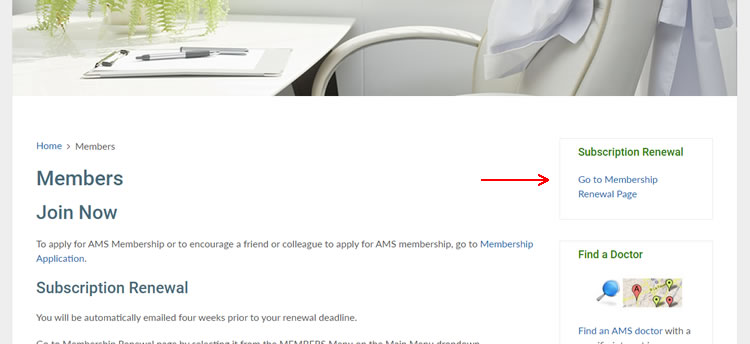 ---
Members
---
Benefits of Membership
Find an AMS doctor
The Find an AMS doctor list is one of the most popular areas of the AMS website and enhanced listing information is now available.
Go to Find an AMS Doctor...
Information Resources
The Australasian Menopause Society provides a access to a range educational materials to assist in the management of women's health around midlife and menopause.
Membership login provides access to the following:
eChanges - the official magazine of the AMS
Each edition contains Society news, State updates, notice of upcoming meetings and a clinical forum featuring a prominent authority on topics involved in the menopause.
Go to eChanges...
eLearning AMS
Courses available on the eLearning AMS platform include up-to-date evidence-based information and guidance in managing women's midlife health issues including menopause and attract RACGP and ACRRM CPD points.

Go to at eLearning AMS
eNews
The AMS will correspond with you via email on important matters relating to menopausal health from time to time.
Go to eNews...
GP and HP Resources
Scientific articles and information relevant to the management of the menopause.
Go to GP and HP Resources...
Information Sheets
Information concerning menopause and midlife health issues in a concise format.
Go to Information Sheets...
IMS Resources
NAMS Resources
Position Statements
The Australasian Menopause Society (AMS) is a scientific society with over 700 members from scientific, medical, nursing, pharmaceutical, paramedical and lay backgrounds interested in menopause education and research. It rigorously assesses issues that may arise in management the menopause and publishes a position statement where required.
Go to Position Statements...
For your patients
Fact sheets
Fact sheets for patient sare companion sheets to the popular videos, and the other more detailed AMS Information Sheets.
Go to Fact sheets
Infographics
To enhance our set of fact sheets for patients AMS has devloped infographics.
Go to Infographics
Menopause Videos
The International Menopause Society (IMS) has produced a set of easy-to-understand videos so that women can access reliable information about what the menopause is, how it might affect them and how to choose safe and effective treatment options.
Translated subtitled versions are available in Cantonese, Mandarin and Vietnamese.
Go to Menopause Videos
Go to Menopause Videos Cantonese
Go to Menopause Videos Mandarin
Go to Menopause Videos Vietnamese
The North American Menopause Society NAMS) presents its comprehensive video series for women on important midlife health topics.
Go to NAMS Menopause Videos
Self Assessment Tools
Information and tools to assist in understanding and assessing risks factors for breast cancer and cardivascular disease.
Go to Self Assessment Tools
Content updated August 2023.