Severity of menopause symptoms could help predict heart disease
Heart disease remains the leading cause of death in women. A study of 138 menopausal women examined the association of mood, symptoms, and quality of life measures with the key markers of vascular aging, a major risk factor for the development of cardiovascular disease (CVD). Study results were published in Menopause, the journal of The North American Menopause Society (NAMS).
It's no secret that the menopause transition is marked with a number of adverse health effects, including hot flushes and depression to vascular aging, which is typically seen as artery stiffening and endothelial dysfunction. With these problems all occurring around the same time in a woman's life, the authors of this latest study sought to determine whether menopause symptoms and depression are related to CVD.
The results, as reported in the article "Vascular dysfunction across the stages of the menopausal transition is associated with menopausal symptoms and quality of life," confirmed that. Across the stages of menopause, arterial stiffening and vascular dysfunction were associated with more frequent and severe menopause symptoms and a lower quality of life. No association, however, was found with depressive symptoms.
Previous studies have shown an especially strong link between hot flushes and increased cardiovascular risk and mortality. In this study, the frequency, but not severity, of hot flushes was specifically associated with greater arterial stiffening and reduced endothelial function.

Does age at menopause affect memory?
Entering menopause at a later age may be associated with a small benefit to your memory years later, according to a study published in Neurology®, the medical journal of the American Academy of Neurology.
The study involved 1,315 women from the Medical Research Council National Survey of Health and Development in Great Britain who had been followed since birth in March 1946. All of the women had tests of their verbal memory skills and their cognitive processing speed at ages 43, 53, between 60 and 64, and at age 69. The researchers collected information on age at menopause, either natural or due to removal of the ovaries, whether they took hormone replacement therapy, and other factors that could affect thinking and memory skills, such as childhood cognitive ability, amount of education, smoking and type of occupation.
Menopause, which is defined as the age at last menstrual cycle, started on average for the women with natural menopause at age 51 and a half.
For the verbal memory test, participants were asked to recall a 15-item list three times, with a maximum score of 45. At age 43, participants recalled an average of 25.8 words. By age 69, they recalled an average of 23.3 words. The study found that among 846 women who experienced menopause naturally, women who had later menopause had higher verbal memory scores, remembering 0.17 additional words per year. After researchers adjusted for other factors that could affect memory, the difference was 0.09 additional words per year.
"The difference in verbal memory scores for a 10-year difference in the start of menopause was small--recalling only one additional word, but it's possible that this benefit could translate to a reduced risk of dementia years later," Kuh said. "More research and follow-up are needed to determine whether that is the case."

iPrevent: an evidence-based tool to assess and manage breast cancer risk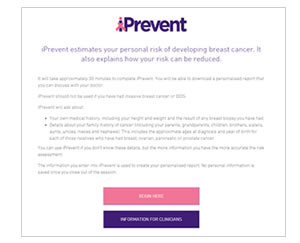 A new web-based tool is available at https://www.petermac.org/iprevent to help women understand their personal breast cancer risk and then act on it.
It is designed to be used collaboratively by women and their doctors. Women can use it at home, print the output, and bring it to a consultation for discussion.
AMS has been given permission to link to the tool from our Self Assessment Tools Are you at risk of cancer? page on breast cancer.
iPrevent asks women to first enter their family cancer history, lifestyle and reproductive risk factor information. Using that information, it then provides 10 year and residual life-time risk estimates; there are options to view these as pictograms or graphs. It then provides tailored estimates of the absolute risk reductions for relevant breast cancer prevention strategies, personalised lifestyle change suggestions, and tailored advice on breast cancer screening. Women can print out a summary to take to a medical consultation for discussion, and so the doctor can incorporate it into the woman's medical record.

22nd AMS Congress 2018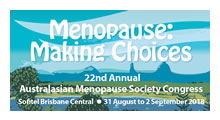 The members of your Local Organising Committee are delighted to invite you to attend the 22nd AMS Congress.
Expand your knowledge on
- primary vs secondary prevention of chronic disease
- choices for risk reduction surgery
- hormonal vs non-hormonal management of menopause
- diet vs pharmacotherapy vs surgery for weight management
- gender choices

To view the full program, click here
Grow your network of collaborators and showcase your latest research at AMS 2018.

Abstract submissions are now open, please click here to view abstract guidelines.
Applications for scholarships and travel grants to attend the Congress are now open here.

*Earlybird registration, abstract submission, scholarship and travel grant application deadline: Friday 1 June.
Menopause Essentials Update: Focus on genitourinary issues
The AMS Board is pleased to present this Menopause Update: Focus on genitourinary issues in association with the 44th ASPOG Annual Scientific Meeting.

This workshop is targeted at all GPs, specialists, allied health workers and other health professionals who are interested in the genitourinary conditions specific to menopause and general women's midlife health.
Speakers and topics include:
Menopause basics: Dr Michele Kwik
Vulvovaginal atrophy: Dr Ann Olssen
Vulva disorders: Dr Ann Olssen
Urinary incontinence: Dr Lucy Bates
Morning tea is included
Date: Thursday 2 August 2018
Time: 9.00am to 12.30pm
Venue: Western Sydney University, Paramatta NSW
Download flyer here
For bookings
Go to the 44th ASPOG ASM 2018 Registration Site and for Menopause Essentials Update: Focus on genitourinary issues only
MEU only here

To register for 44th ASPOG Annual Scientific Meeting and the Menopause Essentials Update: Focus on genitourinary issues:
ASPOG Meeting and MEU here

Join AMS for Member's only content
Vascular problems associated with symptoms of menopause and quality of life measures
This study shows that more frequent and severe menopausal symptoms such as hot flushes, sleep disturbance, loss of sexual interest, weight gain and other quality of life measures, were associated with markers of vascular ageing.
The researchers, however, found no association between these vascular markers and symptoms of depression...
Clarification in mechanism by which menopausal hormone therapy reduces T2D in women
Besides their pivotal role in sexual development and reproduction, estrogens prevent the occurrence of visceral obesity, insulin resistance, and glucose intolerance in women.
By elucidating how estrogen affects two of the hormones involved in glucose homeostasis, researchers demonstrated the value of estrogen supplementation from the onset of menopause. They also show that only one of the three estrogen receptors seems to be involved in this mechanism. This could ultimately provide more targeted therapies.
Not Time to Abandon Use of Local Vaginal Hormone Therapies
Clinicians caring for menopausal women are familiar with the genitourinary syndrome of menopause (GSM), previously referred to as vulvovaginal atrophy, a progressive condition that impairs sexual function and quality of life. Although GSM affects up to 45% of midlife and older women, most with the condition go undiagnosed and untreated...
Our Menopause World April 2018
Miller TA, Allen RH, Kaunitz AM, Cwiak CA. Contraception for midlife women: a review. Menopause 2018 Feb 16. Epub ahead of print
The risk of pregnancy is decreased, but not trivial, among women over 40 years of age. Evidence-based guidelines for contraceptive use can assist clinicians in counseling their patients in this population. Intrauterine contraception is one of the most effective methods and is safe to use in midlife women with few exceptions. Progestin-only contraception is another safe option for most midlife women because it is not associated with an increased risk of cardiovascular complications...
Reeves KW, Pennell M, Foraker RE, Crandall CJ, Stefanick M, Paskett ED. Predictors of vasomotor symptoms among breast cancer survivors. J Cancer Surviv 2018 Feb 9. Epub ahead of print
Vasomotor symptoms (VMS) are a common side-effect of breast cancer treatment, yet modifiable factors that may predict VMS among breast cancer survivors are unknown. Prediction of vasomotor symptoms among 3595 breast cancer survivors enrolled in the Life and Longevity after Cancer (LILAC) study, an ancillary study of the Women's Health Initiative (WHI). VMS post-diagnosis were reported by 790 (22.0%) participants. Risk of VMS after diagnosis was positively associated with prior chemotherapy (aOR 1.80, 95% CI 1.21–2.68) and adjuvant hormone therapy (2.73, 2.08–3.58), postmenopausal hormone therapy use (1.67, 1.30–2.13), prior VMS (2.20, 1.73–2.80), bilateral oophorectomy (1.77, 1.37–2.27), and baseline antidepressant use (1.49, 1.06–2.09)...
NAMS April 2018 Menopause e-Consult
The April 2018 Menopause e-Consult features commentary on these topics:
Question: Recently, I have seen three cases of primary ovarian insufficiency (POI) in my practice—two 26-year-old and one 29-year-old women. After researching POI on the Internet, the women (or their mothers) were convinced that the Gardasil vaccine was in some way responsible for their hormone deficit. Is there any evidence to support their concerns?
Suggested by Cheryl C Kinney, MD, FACOG, Dallas, Texas
Commentary by Wendy L Wolfman, MD, FRCS(C), FACOG, NCMP
Case: I have a 67-year-old white postmenopausal woman in my practice (last menstrual period was 15 years ago) with no history of hormone therapy and T-scores of −2.7 at the L1-L4 region and −1.2 at the femoral neck. I am considering bisphosphonate therapy for her. She is generally well, has a body mass index of 27 kg/m2, normal renal function, and normal screening blood work; however, I have concerns regarding her oral health and hygiene. She appears to have irritated gums and some plaque that she has not dealt with. Could her osteoporosis be related to her oral health, and when planning therapy, should I consider her oral health as well?
Suggested by Suzanne R Trupin, MD, FACOG, NCMP, Urbana, Illinois
Commentary by Leena Palomo, DDS, MSD, and Holly L Thacker, MD, FACP, CCD, NCMP
Drug Holidays in Women Treated for Postmenopausal Osteoporosis
NAMS Practice Pearl: Bisphosphonates and denosumab are the drugs considered for the management of postmenopausal osteoporosis, a chronic condition that requires long-term therapy. But uncertainty exists about the appropriate duration of therapy with these agents.
A new Practice Pearl, "Drug Holidays in Women Treated for Postmenopausal Osteoporosis" Dr Michael McClung shares his expertise and reviews the experience of long-term treatment with bisphosphonates and denosumab, as well as the effects of discontinuing therapy. He offers recommendations regarding "drug holidays" for these medications and what these might mean to your patients at high risk of fracture.