Menopausal hormone therapy linked to having a healthier heart
Women who use menopausal hormone therapy appear to have a heart structure and function that is linked to a lower risk of heart failure, according to a study led by Queen Mary University of London.
The effect of menopausal hormone therapy (MHT), previously known as hormone replacement therapy, on cardiovascular health in post-menopausal women has been controversial and unclear. Extensive data had suggested MHT to have a protective effect on the heart, leading to MHT being routinely prescribed for prevention of heart disease, but subsequent studies to confirm this have varied in their results.
To tackle this longstanding question, researchers have now used data from UK Biobank - a database of health questionnaire data, biological samples and physical measurements from over 500,000 people. UK Biobank holds cardiovascular MRI data - the gold standard for imaging and analysing heart structure and function - which could help overcome the lack of detailed data on the effects of MHT on cardiovascular health.
Lead author Dr Mihir Sanghvi, from the team of scientists led by Professor Steffen Petersen at Queen Mary University of London, said: "This is the first study to look at the relationship between the use of menopausal hormone therapy and subtle changes in the structure and function of the heart, which can be predictors of future heart problems. This is an important issue because there are 2.3 million women using menopausal hormone therapy in the UK today and current evidence of its effect on heart health is conflicted and controversial.

Reducing the number and severity of hot flushes: new class of menopause drugs
A new class of experimental drugs reduces hot flushes in menopausal women by almost three-quarters in just three days.
The treatment, tested by scientists at Imperial College London, also reduces the severity of hot flushes by over a third within three days of taking it.
The research, funded by the Medical Research Council (MRC) and the National Institute for Health Research (NIHR), is a new in-depth analysis of data collected from a clinical trial initially published last year.
The new analysis, published in the journal Menopause, also revealed sleep and concentration significantly improved in the three-day window.
The original drug trial, which was a randomised, double-blind, placebo-controlled trial, involved 37 menopausal women aged between 40 and 62 years old - and who experienced seven or more hot flushes a day.
Participants were randomly chosen to first receive either an 80mg daily dose of the drug, called MLE4901, or a placebo over the course of a four-week period. They then switched to receive the other tablet for an additional four weeks. This ensured the women acted as their own controls during the study, and the effects of the drug were clear.
The researchers found that the compound MLE4901 significantly reduced the average total number of flushes during the four-week treatment period, as well as their severity, compared to when the patients received the placebo for four weeks.

Does menopausal hormone therapy maintain the brain?
Taking menopausal hormone therapy soon after menopause to relieve symptoms may also benefit the brain, according to a study published in the March 21, 2018, online issue of Neurology®, the medical journal of the American Academy of Neurology.
"We found that one form of menopausal hormone therapy taken soon after menopause may preserve brain structure in the portion of the brain responsible for memory and thinking skills," said study author Kejal Kantarci, MD, MS, of the Mayo Clinic in Rochester, Minn., and a member of the American Academy of Neurology. "It may also reduce the development of amyloid plaques that can build up and lead to memory loss."
For the study, researchers identified 75 healthy women with an average age of 53 who were between five months to three years past menopause. Of those, 20 women took conjugated equine estrogen in pill form, 22 received estradiol via skin patches and 33 received a placebo of either the pills or patches. In addition, the women taking active hormone were also given progesterone pills for the first 12 days each month. Placebo pills were given to those in the placebo group.
Study participants were given memory and thinking tests as well as MRI scans at the start of the study, at 18 months, at three years and at the end of four years of hormone treatment, and then again three years after therapy ended. Researchers measured overall brain volume and the accumulation of brain lesions and compared scores on thinking and memory tests. A total of 68 women also had positron emission tomography (PET) scans to detect plaques in the brain that are related to memory loss and Alzheimer's disease.

Mediterranean diet is linked to higher muscle mass, bone density after menopause
The heart-healthy Mediterranean diet also appears to be good for an older woman's bones and muscles, a new study of postmenopausal women in Brazil finds. The study results will be presented Monday at ENDO 2018, the Endocrine Society's 100th annual meeting in Chicago, Ill.
The researchers reported finding higher bone mass and muscle mass in postmenopausal women who adhered to a Mediterranean diet than in those who did not. This way of eating involves a high intake of fruits and vegetables, grains, potatoes, olive oil and seeds; moderately high fish intake; low saturated fat, dairy and red meat consumption; and regular but moderate drinking of red wine. The Mediterranean diet has been linked to a lower risk of heart disease, diabetes, cancer and certain other chronic diseases.
Few studies, however, are available about the Mediterranean diet and its effects on body composition after menopause, said the study's lead investigator, Thais Rasia Silva, Ph.D., a postdoctoral student at Universidade Federal do Rio Grande do Sul in Brazil. This information is important, she said, because menopause, with its decline in estrogen, speeds a woman's loss of bone mass, increasing her risk of the bone-thinning disease osteoporosis and broken bones. In addition, menopause and aging reduce muscle mass. Silva said declines in skeletal muscle mass and strength in older people are major contributors to increased illness, reduced quality of life and higher death rates.

22nd AMS Congress 2018 – Applications for scholarships and travel grants are now open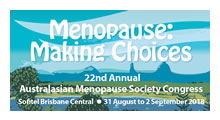 The members of your Local Organising Committee are delighted to invite you to attend.
Expand your knowledge on
- primary vs secondary prevention of chronic disease
- choices for risk reduction surgery
- hormonal vs non-hormonal management of menopause
- diet vs pharmacotherapy vs surgery for weight management
- gender choices

To view the full program, click here
Grow your network of collaborators and showcase your latest research at AMS 2018.

Abstract submissions are now open, please click here to view abstract guidelines.
Applications for scholarships and travel grants to attend the Congress are now open here.

*Earlybird registration, abstract submission, scholarship and travel grant application deadline: Friday 1 June.
Menopause Essentials Update: Focus on genitourinary issues
The AMS Board is pleased to present this Menopause Update: Focus on genitourinary issues in association with the 44th ASPOG Annual Scientific Meeting.

This workshop is targeted at all GPs, specialists, allied health workers and other health professionals who are interested in the genitourinary conditions specific to menopause and general women's midlife health.
Speakers and topics include:
Menopause basics: Dr Michele Kwik
Vulvovaginal atrophy: Dr Ann Olssen
Vulva disorders: Dr Ann Olssen
Urinary incontinence: Dr Lucy Bates
Morning tea is included
Date: Thursday 2 August 2018
Time: 9.00am to 12.30pm
Venue: Western Sydney University, Paramatta NSW
Download flyer here
For bookings
Go to the 44th ASPOG ASM 2018 Registration Site and for Menopause Essentials Update: Focus on genitourinary issues only
MEU only here

To register for 44th ASPOG Annual Scientific Meeting and the Menopause Essentials Update: Focus on genitourinary issues:
ASPOG Meeting and MEU here

Join AMS for Member's only content
Diagnosis and treatment options for bone health - NAMS Video

Dr Felicia Cosman MD
Dr Cosman is the Medical Director of the Clinical Research Center at Helen Hayes Hospital and Professor of Medicine at Columbia University College of Physicians and Surgeons in New York.
She explains vertebral and osteoporotic fractures, risk levels, and antiresorptive and anabolic therapies and shares thoughts on drug holidays.
There is a version aimed at women available as well.
Our Menopause World March 2018
Packer M. Are meta-analyses a form of medical fake news? Thoughts about how they should contribute to medical science and practice. Circulation 2017;136:2097-9
The late Professor Syd Shapiro always told us that we should not over-value meta-analyses because they are too faulty by their methodology. This was years ago, but now I read in Circulation a very similar view by Packer. Unfortunately, there is no Abstract for this article, but the contents are available in Medscape. In short, 'many physicians believe (incorrectly) that there is something magical about a meta-analysis. Someone simply notices that several articles have data that pertain to a common topic and that they might show similar patterns...

Yin O, Zacur HA, Flaws JA, Christianson MS. Association between polycystic ovary syndrome and hot flash presentation during the midlife period. Menopause 2018 Jan 22. Epub ahead of print
The impact of polycystic ovary syndrome (PCOS) on menopausal symptoms remains poorly understood. Participants were recruited from the Midlife Women's Health Study involving 780 women aged 45–54 years. All women completed detailed questionnaires on hot flash symptoms. Between June 2014 and March 2015, participants were screened for history of PCOS based on the Rotterdam criteria.
NAMS Menopause Care Updates
The March 2018 edition features commentary on these issues:
Gordon JL, Rubinow DR, Eisenlohr-Moul TA, Xia K, Schmidt PJ, Girdler SS. Efficacy of transdermal estradiol and micronized progesterone in the prevention of depressive symptoms in the menopause transition: a randomized clinical trial. JAMA Psych. 2018;75(2):149-157.
Commentary by Nicole Jaff, PhD, NCMP
Mørch LS, Skovlund CW, Hannaford PC, Iversen L, Fielding S, Lidegaard Ø. Contemporary hormonal contraception and the risk of breast cancer. N Engl J Med. 2017;377(23):2228-2239.
Commentary by Andrew M. Kaunitz, MD, NCMP, and JoAnn E. Manson, MD, DrPH, NCMP
Sittadjody S, Saul JM, McQuilling JP, et al. In vivo transplantation of 3D encapsulated ovarian constructs in rats corrects abnormalities of ovarian failure. Nat Commun. 2017;18(1):1858.
Commentary by Cynthia A. Stuenkel, MD, NCMP