22nd AMS Congress 2018 - Registration & abstract submission now open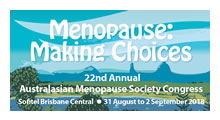 The members of your Local Organising Committee are delighted to invite you to attend.
Expand your knowledge on
- primary vs secondary prevention of chronic disease
- choices for risk reduction surgery
- hormonal vs non-hormonal management of menopause
- diet vs pharmacotherapy vs surgery for weight management
- gender choices
To view the full program, click here
Grow your network of collaborators and showcase your latest research at AMS 2018.

Abstract submissions are now open, please click here to view abstract guidelines.
*Earlybird registration and abstract submission deadline: Friday 1 June.
New AMS eLearning website launch
The AMS was excited to launch its new eLearning website at Healthed's Women's and Children's Health Update in Sydney recently. The AMS eLearning website is a new member benefit for AMS members only.
AMS members will be able to access webinars, case studies, quizzes and other learnings that will attract CPD points. AMS will upload RACGP CPD points for participants completing the activities and you can print out a certificate for your records. Members of the RANZCOG, RACP, ACCRM and other colleges will be able to print out certificates that meet your college requirements.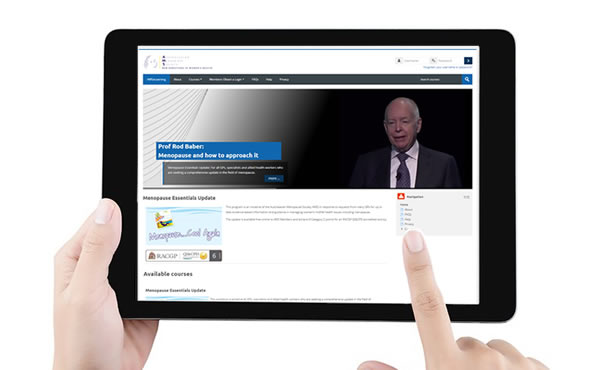 The first activity listed on the website is the Menopause Essentials Update presented as part of the Pre-Congress meeting of the 22nd AMS Congress in Sydney last year. This four-module, three-hour webinar will bring you up to speed in menopause management and women's midlife health. There are also links to relevant AMS Information Sheets to assist you in your practice.
Review the site here: https://elearning.menopause.org.au
Join AMS for access to AMSeLearning.
An update on the treatment of rosacea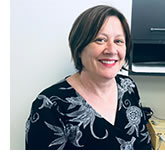 Rosacea can be an alternate cause of flushing. Here, Dr Andrew Boyden interviews dermatologist Dr Margot Whitfeld about the diagnosis and treatment options for the different types of rosacea.
https://www.nps.org.au/australian-prescriber/podcast#episodes
Rosacea is a common inflammatory skin disorder that can seriously impair quality of life.
Treatment starts with general measures which include gentle skin cleansing, photoprotection and avoidance of exacerbating factors such as changes in temperature, ultraviolet light, stress, alcoholand some foods.
For patients with the erythematotelangiectatic form, specific topical treatments include metronidazole, azelaic acid, and brimonidine as monotherapy or in combination. Laser therapies may also be beneficial...
Read the full article in Australian Prescriber https://www.nps.org.au/australian-prescriber/articles/an-update-on-the-treatment-of-rosacea
Menopause Essentials Update: Focus on genitourinary issues
The AMS Board is pleased to present this Menopause Update: Focus on genitourinary issues in association with the 44th ASPOG Annual Scientific Meeting.

This workshop is targeted at all GPs, specialists, allied health workers and other health professionals who are interested in the genitourinary conditions specific to menopause and general women's midlife health.
Speakers and topics include:
Menopause basics: Dr Michele Kwik
Vulvovaginal atrophy: Dr Ann Olssen
Vulva disorders: Dr Ann Olssen
Urinary incontinence: Dr Lucy Bates
Morning tea is included
Date: Thursday 2 August 2018
Time: 9.00am to 12.30pm
Venue: Western Sydney University, Paramatta NSW
Download flyer

Menopause Essentials Update: Focus on genitourinary issues188.62 KB
For bookings
Go to the 44th ASPOG ASM 2018 Registration Site and for Menopause Essentials Update: Focus on genitourinary issues only
https://meetingpeople.eventsair.com/aspog-2018/muregonly/Site/Register

To register for 44th ASPOG Annual Scientific Meeting and the Menopause Essentials Update: Focus on genitourinary issues:
https://meetingpeople.eventsair.com/aspog-2018/reg/Site/Register

IMS Vancouver – Group Booking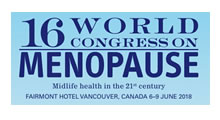 Do you plan to attend the 16th IMS World Congress in Vancouver on 6-9 June 2018?
If so, AMS is coordinating a group booking where you can register at a discounted rate of €500 (compared to €650 for non-IMS members).
To access this discount, please register your interest with Vicki Doherty at ams@menopause.org.au or on 0458 113 183 before 15 March 2018.
Update on the use of vaginal mesh for stress urinary incontinence and prolapse.
Following a review by the TGA late last year, transvaginal mesh products used for prolapse have been withdrawn from 4 January 2018. Medsafe in New Zealand is currently undertaking a similar review.
However, mesh used to treat stress urinary incontinence (mid-urethral slings) are still available and are the most effective surgical procedure with the lowest complication rate.
More details can be found at:
UGSA Update on the use of vaginal mesh for urinary incontinence and prolapse as at 30-01-18 (PDF)
https://www.tga.gov.au/alert/tga-actions-after-review-urogynaecological-surgical-mesh-implants
Join AMS for Member's only content
Our Menopause World January 2018
Bell RJ, Rizvi F, Islam RM, Davis SR. A systematic review of intravaginal testosterone for the treatment of vulvovaginal atrophy. Menopause 2017 Dec 28. Epub ahead of print
Intravaginal testosterone has emerged as a potential treatment for vulvovaginal atrophy (VVA) in women, in general, and women taking an aromatase inhibitor (AI). Six separate clinical trials were identified that ranged in size from 10 to 80 participants, with either single dose, or durations of 4–12 weeks. Only one study incorporated a double-blind design. Three studies were of women taking an AI. Taken together, the studies suggest that intravaginal testosterone may lower vaginal pH, increase the proportion of vaginal lactobacilli, and possibly improve the vaginal maturation index. The lack of a placebo treatment in four studies, and failure to adjust for baseline differences, resulted in uncertainty of the effect on sexual function. Safety remains uncertain because of the small number of women exposed, short study durations, and inconsistent and incomplete outcome reporting for sex steroid levels...
Shepstone L, Lenaghan E, Cooper C, et al. Screening in the community to reduce fractures in older women (SCOOP): a randomised controlled trial. Lancet 2017 Dec 15. Epub ahead of print
Despite effective assessment methods and medications targeting osteoporosis and related fractures, screening for fracture risk is not currently advocated in the UK. We tested whether a community-based screening intervention could reduce fractures in older women. We did a two-arm randomized controlled trial in women aged 70–85 years to compare a screening program using the Fracture Risk Assessment Tool (FRAX) with usual management. Women were recruited from 100 general practitioner (GP) practices in seven regions of the UK. We excluded women who were currently on prescription anti-osteoporotic drugs and any individuals deemed to be unsuitable to enter a research study (e.g. known dementia, terminally ill, or recently bereaved). The primary outcome was the proportion of individuals who had one or more osteoporosis-related fractures over a 5-year period. In the screening group, treatment was recommended in women identified to be at high risk of hip fracture, according to the FRAX 10-year hip fracture probability. Pre-specified secondary outcomes were the proportions of participants who had at least one hip fracture, any clinical fracture, or mortality; and the effect of screening on anxiety and health-related quality of life. A total of 12,483 eligible women were identified and participated in the trial, and 6233 women were randomly assigned to the screening group between April 15, 2008, and July 2, 2009...
Cuerva MJ, Gonzalez D, Canals M, et al. The sexual health approach in postmenopause: The five-minutes study. Maturitas 2018;108:31-6
The aim was to determine whether actively addressing sexuality in a gynecological consultation with menopausal patients improves the diagnosis of sexual problems. A multi-center analytical cross-sectional study was conducted at 12 Spanish hospitals. In gynecological consultations, the usual medical histories were taken, except that, initially, issues relating to sexuality were omitted, unless the patients raised them. Then, after 5 min, gynecologists offered the possibility of talking about sexuality and asked about possible sexual problems. A total of 256 postmenopausal women participated in the study. Of them, 12.1% reported a sexual problem during the first 5 min of the interview. The prevalence of patients with a sexual problem increased by 35.9% (from 12.1% to 48.0%) when they were asked about sexuality after 5 min (p < 0.0001). The main factors associated with having a sexual problem were genitourinary syndrome of menopause and having a stable sexual partner...
Evaluation and Management of Migraine in Midlife Women - NAMS Practice Pearl
Few studies address the epidemiology or treatment of migraine in midlife women. Migraine appears to be connected with fluctuations in hormones (primarily estrogen), commonly arising in puberty, worsening in perimenopause, and quiescing in late menopause. Comorbid conditions (anxiety, depression, sleep disturbances) that arise in perimenopause also may contribute to worsening of migraine.
February 2018 Menopause e-Consult
The February 2018 edition features commentary on these issues:
Case: A 56-year-old postmenopausal woman who had a successful endometrial ablation at age 42 presents with abnormal uterine bleeding (AUB). An ultrasound showed a thickened endometrium but no endometrial biopsy was performed because of scarring from the ablation. A hysteroscopy was performed showing hyperplasia without atypia. The woman did not want further surgery, but conservative management with oral progestin did not alleviate the problem, and after several months of treatment, she continued to have AUB. What are the management options going forward?
Question: A 50-year-old white female has severe hot flashes as well as severe migraines with significant aura. She has been admitted to a local hospital for full evaluation for possible stroke, but the final diagnosis was migraine with aura. The migraines are being treated with Botox and Topamax. Her sister had a stroke at age 39. She is already taking venlafaxine for depression. She is intolerant to gabapentin (dizziness and nausea). Any ideas for treatment of her incapacitating hot flashes?