Season's Greetings
The Board and staff of the Australasian Menopause Society wish you a safe, happy and peaceful time over the festive season and into the New Year. We would like to express our appreciation of your support in 2017 and we look forward to working with you to make 2018 exciting and prosperous. Please note the AMS office will close on Friday 22 December at 5.00pm and reopen on Tuesday 2 January 2018 at 9.00am.
22nd AMS Congress "Menopause – Making Choices", Brisbane, 2018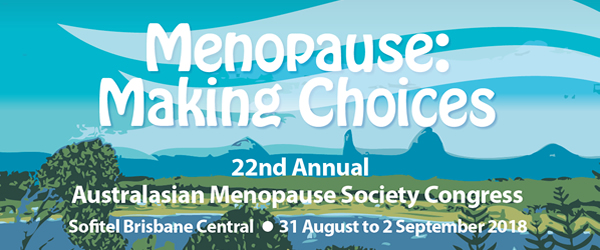 Life is always about making choices and no time is this more evident than at the menopause. The Brisbane 2018 scientific program is designed to explore those important choices that we need to help our patients to make.
Central to informed choice is risk perception – MHT or no MHT or non-hormonal therapy; primary or secondary prevention of chronic disease; diet, pharmacotherapy or surgery for obesity; risk reduction surgery for cancer; hysterectomy with or without oophorectomy; and, finally the choices our patients make about gender and gender transition.
We have two excellent overseas speakers as well as leading local Australian and New Zealand speakers.
Dr Robert D. Langer from the University of Nevada will speak about risk perception versus risk reality as well as primary versus secondary prevention of chronic disease post menopause. He was a principal investigator on the WHI study and has important insights into how and why that particular study has influenced our thinking and our patients' perception of risk over the last 15 years.
If you want the choice of an effective non-hormonal treatment for hot flushes, you need to hear Dr. Naomi Rance from the University of Arizona. She has been researching the link between oestrogen depletion and vasomotor symptoms, and the neural pathways mediating that link. Her right-up-to-date research at last opens the door for the development of effective non-hormonal treatment of vasomotor symptoms.
Bronwyn Stuckey
Chair, Scientific Program Committee
New AMS Information Sheet - Lifestyle and behavioural modifications for menopausal symptoms

The Education Subcommittee is pleased to release a new AMS Information Sheet titled "Lifestyle and behavioural modifications to manage menopausal symptoms". Many women wish to explore non-pharmaceutical options for symptom management. To date, there is not yet a lot of evidence for most lifestyle options with the exception cognitive behaviour therapy (CBT). Lifestyle changes may, however, improve wellbeing and make menopausal symptoms easier to tolerate, and this information sheet does contain some useful tips on cooling and trigger avoidance. We hope you find it helpful for your patients.
The New information sheet has the following key points:
This new Infomation Sheet is available to Members immediately and then generally into the new year.
Heavy Menstrual Bleeding Clinical Care Standard launched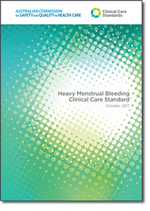 The first nationally agreed standard of care for women experiencing heavy menstrual bleeding says women should be offered less invasive treatments before considering a hysterectomy – a major operation best done only when other treatments are not suitable.
Heavy menstrual bleeding affects an estimated 1 in 4 women of reproductive age. Despite being common, it is also under-recognised, and can significantly reduce a woman's social, emotional and physical quality of life. It causes considerable disruption to women's lives lasting several days each month, with some women experiencing associated pain. Sometimes the cause of the bleeding, such as fibroids, can be identified, but for about 50% of women it cannot.
Figures strongly suggest many Australian women are having hysterectomies for heavy menstrual bleeding rather than less invasive treatments. These include a hormone-releasing intra-uterine device (IUD), or a surgical technique called endometrial ablation, which reduces the bleeding by removing the lining of the uterus.
The new Heavy Menstrual Bleeding Clinical Care Standard, from the Australian Commission on Safety and Quality in Health Care, says most women with heavy menstrual bleeding can be effectively cared for by their GP. Referral to a specialist may be warranted in some situations – such as if the woman has uterine fibroids or polyps, or in less common situations where cancer is suspected, if symptoms do not resolve with initial treatments, or if the woman would prefer surgery.
The Heavy Menstrual Bleeding Clinical Care Standard has been endorsed by a range of medical and health care organisations, including the Royal Australian and New Zealand College of Obstetricians and Gynaecologists, the Australian College of Rural and Remote Medicine, the Royal Australian and New Zealand College of Radiologists, the Rural Doctors Association of Australia and the Australian College of Nursing as well as the Australasian Menopause Society.
Go to Position Statements: Heavy Menstrual Bleeding Clinical Care Standard for more details on the standard.

Could hot flushes be precursor to diabetes?
Analysis of Women's Health Initiative data demonstrates effect of severity and duration of hot flushes on risk of developing diabetes
Hot flushes, undoubtedly the most common symptom of menopause, are not just uncomfortable and inconvenient, but numerous studies demonstrate they may increase the risk of serious health problems, including heart disease. This study suggests that hot flushes (especially when accompanied by night sweats) also may increase the risk of developing diabetes.
As reported in "Vasomotor symptom characteristics: are they risk factors for incident diabetes?" data was analyzed from the more than 150,000 postmenopausal women who participated in the Women's Health Initiative (WHI) to confirm that the occurrence of hot flushes was associated with an elevated diabetes risk. Of the total population studied, 33% of the women had experienced hot flushes. Any incidence of hot flushes was associated with an 18% increased diabetes risk, and this risk continued to climb on the basis of the severity and duration of the hot flushes. Moreover, diabetes risk was the most pronounced for women reporting any type of night sweats but only if the onset of hot flushes occurred late in the menopause transition.

Join AMS for Member's only content
The MHT for prevention debate
The US Preventive Services Task Force (USPSTF) Recommendation Statement and an accompanying Evidence Report were published in the 12 December issue of JAMA. The Task Force recommends against
the use of combined estrogen and progestin for the primary prevention of chronic conditions in postmenopausal women. (D recommendation)
the use of estrogen alone for the primary prevention of chronic conditions in postmenopausal women who have had a hysterectomy. (D recommendation)
The editorial in JAMA presents a particular view:
Menopausal Hormone Therapy for Primary Prevention of Chronic Disease
There are dissenting views:
Comments on the USPSTF draft recommendation statement on menopausal hormone therapy: primary prevention of chronic conditions
Menopausal hormone therapy for primary prevention: why the USPSTF is wrong
Menopausal Hormone Therapy for Primary Prevention of Chronic Disease
JAMA Editorial December 12, 2017: In this issue of JAMA, the US Preventive Services Task Force (USPSTF) presents a Recommendation Statement1and an accompanying Evidence Report that consider the risks and benefits of menopausal hormone therapy for primary prevention of chronic conditions and arrive at a grade D recommendation. The recommendations are based only on evidence from randomized trials and do not pertain to women considering hormone therapy for vasomotor symptoms, given the USPSTF mandate to consider specific preventive care services for patients without related signs and symptoms of illness...
Does Use of Hormonal Contraception Affect Risk for Breast Cancer?
Danish national observational analysis suggests modest excess risk, but methodologic concerns cloud credibility.
Many women and clinicians are concerned that hormonal contraception might raise risk for breast cancer. In a prospective cohort study, investigators used Danish national data to assess the association between use of hormonal contraception and risk for invasive breast cancer in women aged 15 to 49. Some 1.8 million women were followed for a mean of 10.9 years (1995–2012); 11,517 breast cancers were diagnosed. Findings were adjusted for duration of hormonal contraceptive use, age, calendar year, education, parity, polycystic ovary syndrome, endometriosis, and family history of breast or ovarian cancer.
NAMS First to Know - December 2017
This issue of First to Know offers a summary of the latest, breaking menopause-related news along with commentary by leading experts in the field explaining how this news may affect you and your practice.
Our Menopause World December 2017
Influence of oral and gut microbiota in the health of menopausal women:
Sex differences in gut microbiota are acknowledged, and evidence suggests that gut microbiota may have a role in higher incidence and/or severity of autoimmune diseases in females. Additionally, it has been suggested that the composition of oral, vaginal, and gut microbiota can be regulated by estrogen levels...
IMS Live - Weight and breast cancer risk
Many studies link weight/body mass index (BMI) to breast cancer risk. However, BMI affects risk differently before and after menopause. Before menopause, being overweight or obese modestly decreases breast cancer risk whereas, after menopause, being overweight or obese increases breast cancer risk. Several recent studies have shed light on other relevant perspectives of this link...