Perimenopause or Menopausal Transition - new Information Sheet now available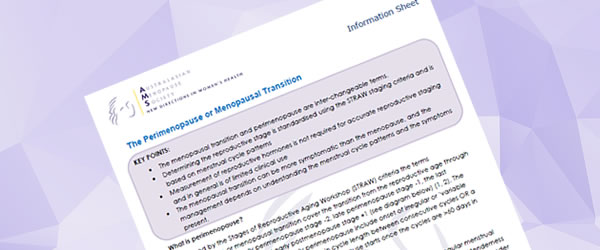 The perimenopause, or menopausal transition is the time just preceding and immediately after the menopause. In industrialised countries, the median age of onset of perimenopause is 47.5 years and usually lasts two to six years.
Key points covered are:
The menopausal transition and perimenopause are inter-changeable terms.
Determining the reproductive stage is standardised using the Stages of Reproductive Aging Workshop (STRAW) staging criteria and is based on menstrual cycle patterns
Measurement of reproductive hormones is not required for accurate reproductive staging and in general is of limited clinical use
The menopausal transition can be more symptomatic than the menopause, and the management depends on understanding the menstrual cycle patterns and the symptoms present.

Prasterone (Intrarosa) for Dyspareunia due to vulvovaginal atrophy (VVA)
The FDA has approved the steroid prasterone (Intrarosa – Endoceutics) for intravaginal treatment of postmenopausal women with moderate-to-severe dyspareunia due to vulvovaginal atrophy (VVA). Also called dehydroepiandrosterone (DHEA), prasterone is produced in the adrenal glands, gonads, and brain and converted intracellularly into active metabolites of estrogens and androgens. DHEA has been available over the counter for years as an oral dietary supplement claimed to benefit sexual, cardiovascular, and neuropsychiatric dysfunction...

The North American Menopause Society (NAMS) Annual Meeting
The NAMS Annual Meeting was held in Philadelphia recently. The presentations made at the meeting included topics:
Approaches for evaluating diagnostic and treatment options
Confusion about long-term treatment of osteoporosis
Postmenopausal women more likely to use alternatives other than hormone therapy
Women can breathe sigh of relief when using vaginal oestrogen to treat menopause symptoms
Greatest improvements in mood in women reporting more stressful life events
Additional education needed for clinicians so women can safely get relief from hot flashes and other menopause symptoms
Insights as to why women become less sexually active as they age

Bioidentical Hormones - risks revisited
The October issue of Endocrine news carries an article that once again tackles the complexity of bioidentical hormones.
The freelance US writer highlights the confusion surrounding "bioidentical hormones" and more specifically the compounded formulations that are promoted as "natural".
The 2015 study by Santoro and Pinkerton estimated that 1 million to 2.5 million U.S. women aged 40 years or older are using compounded hormone therapy. This may mean that custom-compounded products represent a quarter to a third of the market for hormone therapy products. Custom-compounded products lack protections of purity, controlled manufacturing processes, and evidence from clinical trials that products from less-regulated compounding pharmacies do not.
Santoro is quoted as recognising "Maybe 1% of people will have a reaction to all forms of hormone therapy and might do better with compounding" but emphasises the availability of "government-approved bioidentical hormone therapy".
The "Compounded Bioidentical Hormones in Endocrinology Practice: An Endocrine Society Scientific Statement" published in The Journal of Clinical Endocrinology & Metabolism in April 2016 is worth a read or review along with long with Bioidentical Hormones for Menopausal Symptoms and Bioidentical Hormone Preparations - History of Development.

21st AMS Congress 2017 - Thank you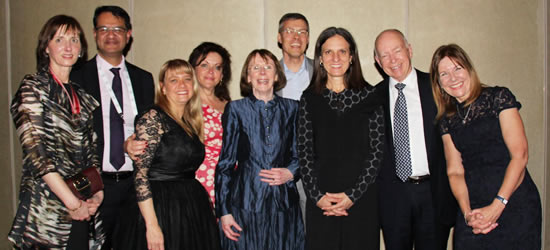 The Local Organising Committee of the 21st AMS Congress thanks all delegates and sponsors for making the meeting such a success!
We are all indebted to the Scientific Committee for their hard work and imagination in putting together such a stimulating program.
We look forward to seeing you at the next Congress in October 2018 in Brisbane.

Kind regards,
Sheila O'Neill
For the 2017 Organising Committee

Join AMS for Member's only content
Complementary and Herbal Medicines for Hot Flushes updated - Members only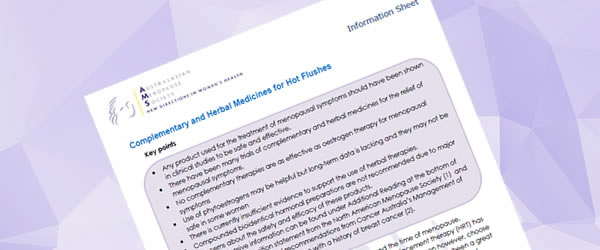 This information sheet addresses one of the most accessed areas of the AMS web resources.
Key points are:
Any product used for the treatment of menopausal symptoms should have been shown in clinical studies to be safe and effective.
There have been many trials of complementary and herbal medicines for the relief of menopausal symptoms.
No complementary therapies are as effective as oestrogen therapy for menopausal symptoms
Use of phytoestrogens may be helpful but long-term data is lacking and they may not be safe in some women
There is currently insufficient evidence to support the use of herbal therapies.
Compounded bioidentical hormonal preparations are not recommended due to major concerns about the safety and efficacy of these products.
Comprehensive information can be found under Additional Reading at the bottom of this sheet – the position statement from the North American Menopause Society and evidence summaries and recommendations from Cancer Australia's Management of menopausal symptoms in women with a history of breast cancer.
Our Menopause World October 2017
Includes articles such as:
Chien TJ, Hsu CH, Liu CY, Fang CJ. Effect of acupuncture on hot flush and menopause symptoms in breast cancer - A systematic review and meta-analysis. PLoS One 2017;12(8):e0180918
Many breast cancer patients suffer from hot flush and medical menopause as side-effects of treatment. Some patients undergo acupuncture, rather than hormone therapy, to relieve these symptoms, but the efficacy of acupuncture is uncertain. This meta-analysis evaluated the efficacy of acupuncture on hot flush and menopause symptoms (measured by menopause symptom scales) in women with breast cancer.
Latest from IMS Live
- Dietary intervention targeting reduction of energy density
Energy-dense foods are foods with a high proportion of energy relative to the food weight. Such foods are considered obesogenic. Hence, consumption of energy-dense foods, particularly those with a high content of unsaturated fats and sugar, predicts weight gain and greater waist circumference...
- Prevention of Alzheimer's disease
The prevalence of Alzheimer's disease (AD) is constantly increasing to very alarming figures, and this already has a huge impact on society in terms of needed medical and nursing services as well as the associated financial burden. Herein, I bring a very condensed bullet-type summary published in Medscape by the author of a paper, just published in the Journal of the American Geriatric Society [1]. First, the major risk factors, which are not modifiable, are age and female gender, and the presence of the apolipoprotein E ε4 allele. Still many risk factors may be modified and thus should be considered as worthy targets in the prevention of AD...
- New insights on current osteoporosis risk assessment
Once upon a time, not too many years ago, osteoporosis was defined as having a history of low-trauma, major site fracture. Then came the high technology era and DXA machines were introduced all over the world. By testing large populations, sex-, ethnic-, age- and weight-adjusted bone density (BMD) averages were calculated, which allowed new definitions of osteoporosis (by T-score), and comparison of the individual values with the adjusted average values in their community (Z-score). Still, because most people who fracture do not have osteoporosis and most people with osteoporosis do not break their bones, a more sophisticated method to measure the risk for fractures seemed reasonable. Furthermore, new medications to prevent fractures have been developed and commercialized, adding a substantial financial burden to health budgets, thus putting cost-effectiveness as a top priority issue...
Upcoming Conferences

RANZCOG 2017 Annual Scientific Meeting
Auckland, New Zealand
29 October - 1 November 2017
http://ranzcog2017asm.com.au
25th World Congress on Controversies in Obstetrics, Gynecology & Infertility (COGI)
Vienna, Austria
November 30 - December 2, 2017
www.cogi-congress.org
16th World Congress on Menopause
Midlife Health in the 21st Century
6 - 9 June 2018
Vancover, Canada
www.imsvancouver2018.com