World Menopause Day 18 October 2017
Welcome to AMS World Menopause Day email for doctors and other healthcare professionals who have a special interest in women's health.
World Menopause Day 2017
The theme of this year's World Menopause Day on 18 October is "Changes before the change".
The perimenopause, or menopausal transition is the time just preceding and immediately after the menopause. In industrialised countries, the median age of onset of perimenopause is 47.5 years and usually lasts two to six years.
Perimenopause or Menopausal Transition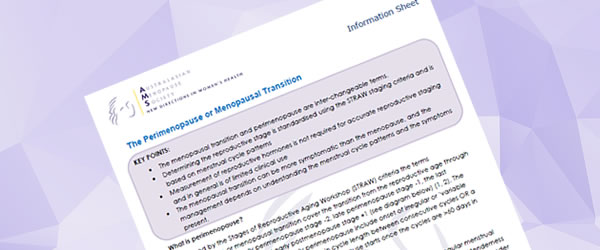 To mark World Menopause Day, the AMS has developed a new information sheet for doctors and health professionals to mark World Menopause Day, called "Perimenopause or Menopausal Transition".
It covers diagnosing and managing perimenopausal symptoms.

Changes before the Change: Perimenopausal bleeding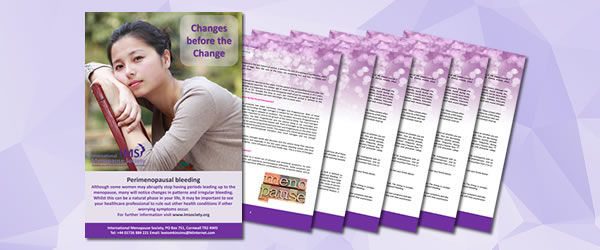 The International Menopause Society has developed a patient information leaflet – "Changes before the Change: Perimenopausal bleeding".
Many women experience Abnormal Uterine Bleeding (AUB) during perimenopause. AUB is defined as bleeding that differs in frequency, regularity, duration or amount to your regular menstrual bleeding. Changes to the menstrual cycle often carry no significant consequences; however, they could have a range of causes. The leaflet explains that a thorough history and physical examination will indicate the cause of uterine bleeding and help discern the need for further investigation and treatment. Other investigations for abnormal uterine bleeding include a PAP Smear, Endometrial or Uterine Sampling (Endometrial Biopsy), a Vaginal Ultrasound (Echography) and routine laboratory testing.

Copyright © 2017
Australasian Menopause Society Ltd.
PO Box 280, Healesville VIC 3777
Tel: +61 3 9428 8738 | Email: ams@menopause.org.au
Join the AMS now
Contact us |