Relationship between the menopause transition (MT) and changes in body composition
Study links perimenopause to accelerated fat mass gains, lean mass losses
The menopause transition, also known as perimenopause, is the time in a woman's life when hormonal changes lead to irregular menstruation, hot flashes and other symptoms leading up to menopause, when menstruation stops altogether. The researchers found that women undergoing perimenopause lost lean body mass and more than doubled their fat mass. The women's lean and fat mass remained stable after the transition to menopause. The researchers also noted ethnic/racial differences in the impact of menopause on body composition.

Does pregnancy history affect cognitive function?
Healthy cognitive aging is a public health priority, especially as the US population grows older. Until now, not much has been known about the link between pregnancy history and cognitive function in older women. A new study finds that there does not appear to be a link. Study results are published online today in Menopause, the journal of The North American Menopause Society (NAMS).
There are a number of reproductive and pregnancy characteristics that can have consequences for health outcomes later in life. Previous epidemiologic studies have reported that pregnancy history, including age at first pregnancy, is associated with midlife and later-life health risks, including diabetes, hypertension, hypercholesterolemia, and cardiovascular disease, which have been associated with later-life cognitive function. However, simply having children, even if it is later in life, doesn't appear to cause a cognitive decline.
Of 16 associations tested, four pregnancy exposures by four cognitive tests, only one was statistically significant. Women who reported ever being pregnant recalled 0.12 fewer words on the Buschke Selective Reminding Test for every year increase in age than women who had never been pregnant. Further, there were no significant associations between the number of pregnancies or age at first or last pregnancy and the rate of decline, implying that women waiting to have children later in life or to have more children do not need to be concerned about the effect on their cognitive abilities.
The finding was the basis of a study of more than 1,000 women, 77% of whom had at least one pregnancy, enrolled in the Rancho Bernardo Study through San Diego State University. The women attended a clinic visit between 1988 and 1992 where pregnancy history (ever pregnant, number of pregnancies, ages at first and last pregnancy) was recorded, and cognitive function was assessed with a total of four tests repeated up to seven times through 2016.

New Fact Sheets available
Menopause before 40 and spontaneous premature ovarian insufficiency

Main Points
Premature ovarian insufficiency (POI) is a loss of function of the ovaries in women who are less than 40 years old.
Spontaneous POI affects 1% of women less than 40 years and in most cases the cause is not identified.
Irregular/no menstrual periods or menopausal symptoms may be the only sign of POI and blood tests are needed for diagnosis.
POI can cause infertility and increase the risk of long-term health problems such as heart disease, osteoporosis and memory problems.
Hormone replacement therapy is recommended until the natural age of menopause (51 years) to reduce the long-term risks.
Speak with your doctor about treatments and other options to manage any infertility and health consequences.

Early menopause – chemotherapy and radiation therapy

Main Points
Chemotherapy and radiation therapy for cancer and other conditions can cause temporary or permanent loss of your menstrual periods and menopause.
Before the age of 40, this is known as premature ovarian insufficiency (POI).
Between the ages of 40 and 45, this is known as early menopause.
Early menopause and POI can cause infertility and have short- and long-term health consequences such as heart disease, osteoporosis and memory problems.
Some women who have chemotherapy remain fertile, so it is important to use contraception if you do not want to become pregnant or if your doctor advises you that it is not safe to become pregnant.
Speak with your doctor about treatments and other options to manage any infertility and long-term health consequences.

Menopause Essentials Update 2019
Saturday 25 May 2019 1.30-5.30pm
The Victoria Hotel, 215 Little Collins St, Melbourne
This update on Menopause is aimed at GP's, gynaecologists, endocrinologists and other health professionals who are seeking a comprehensive review of the current issues that face them in the diagnosis and management of menopausal symptoms. Presentations will include case studies and there will be time for questions.
Speakers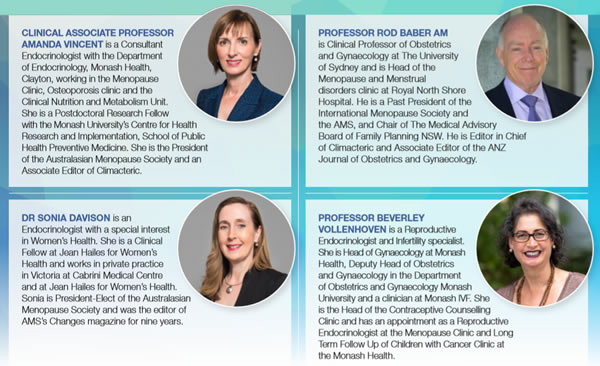 Topics include:
Decision making at menopause
Menopausal hormone therapy (MHT): What's new?
Managing menopause without hormones
MHT in difficult circumstances
RACGP QI&CPD, ACRRM PDP and RANZCOG PD points apply.
Registration Fee
AMS members: Free
Non-members: $50
Trainees/Registrars: $25
Register
Go to Trybooking at: https://www.trybooking.com/BAEOV
Flyer
Menopause Essentials Update May 2019 PDF

Join AMS for Member's only content
A new publication in BMJ linking Alzheimer's Disease to menopausal hormone therapy use
IMS Menopause Live: 18 March 2019
Publication: Use of postmenopausal hormone therapy and risk of Alzheimer's disease in Finland: nationwide case-control study by Hanna Savolainen-Peltonen, Paivi Rahkola-Soisalo, Fabian Hoti, Pia Vattulainen, Mika Gissler, Olavi Ylikorkala, Tomi S Mikkola BMJ 2019;364:l665.
Should this warrant a change in prescribing practices for MHT?
The simple answer is no.
This recent publication in the BMJ reports a case-control study from Finland comparing the use of menopausal hormone therapy (MHT) among Finnish women with and without Alzheimer's disease (AD). The researchers report that systemic MHT ever-use was higher among women with AD (18.6%) compared with those without AD (17.0%). They conclude, "Use of postmenopausal systemic hormone therapy is accompanied with an increase in the risk of Alzheimer's disease in postmenopausal women" and that, "[this] data should be implemented into information for present and future users of hormone therapy".
Initiation and continuation of menopausal hormone therapy pre- and post-WHI study
IMS Menopause Live: 12 March 2019
Hormone Therapy and Alzheimer Disease: Putting New Findings Into Perspective
NAMS First to Know: 12 March 2019
To compare the use of hormone therapy (HT) between Finnish postmenopausal women with and without a diagnosis of Alzheimer disease (AD), a nationwide case-control study was performed in all postmenopausal women (n=84,739) in Finland who received a diagnosis of AD from a neurologist or geriatrician between 1999 and 2013. Data on HT use were obtained from the Finnish national drug reimbursement register. Control women without a diagnosis, matched by age and hospital district, were traced from the Finnish national population register.
Bone Density Assessment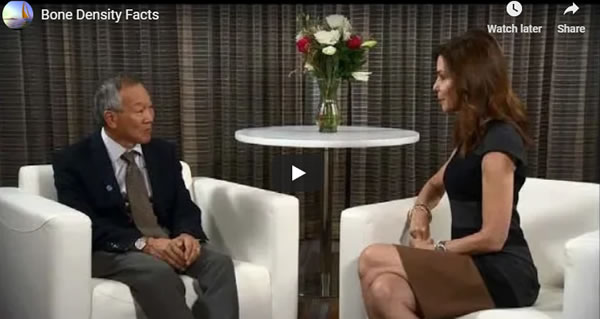 James H Liu, MD, NCMP
2018-2019 NAMS President
Arthur H Bill Professor and Chair
Department of Obstetrics and Gynecology
University Hospitals/MacDonald Women's Hospital
Department of Reproductive Biology
Case Western Reserve University School of Medicine
Cleveland, Ohio
Dr Liu discusses what the clinician needs to know about bone density assessments.
Our Menopause World March 2019
See all the news here... including the following articles:
The British Menopause Society consensus statement on the management of estrogen deficiency symptoms, arthralgia and menopause diagnosis in women treated for early breast cancer
It is now recommended that breast cancer patients be referred to health-care professionals with an expertise in menopause for the management of such symptoms, which in turn often involves liaison with patients' breast cancer teams.
The clinical role of LASER for vulvar and vaginal treatments in gynecology and female urology: An ICS/ISSVD best practice consensus document.
The clinical role of LASER for vulvar and vaginal treatments in gynecology and female urology is controversial.
Premenopausal cardiovascular disease and age at natural menopause: a pooled analysis of over 170,000 women.
Early menopause is associated with an increased risk of subsequent cardiovascular disease (CVD).
European Menopause and Andropause Society (EMAS)
AMS is an affiliate of EMAS
See a copy of the EMAS March 2019 Newsletter