Surgical menopause leads to increased sleep issues
Insomnia is one of the most common symptoms of menopause, with nearly 20% of postmenopausal women reporting sleep disturbances. A new study from Korea demonstrates that sleep quality is often worse for women who undergo surgical menopause compared with those who transition through menopause naturally. The study results are published online today in Menopause, the journal of The North American Menopause Society (NAMS).
Surgical menopause is often accompanied by more psychological and physical difficulties. The increased severity of menopause symptoms such as hot flashes and night sweats can disrupt sleep during a time in a woman's life when sleep problems are already an issue; however, only a few quantitative studies have investigated sleep-interfering behavior in postmenopausal women. This new study is one of the first to compare sleep-interfering behaviors based on type of menopause, surgical and natural.
More than 500 postmenopausal women completed questionnaires as part of the study. Women in the surgical menopause group reported significantly worse sleep quality, especially for sleep duration and habitual sleep efficiency, compared with women in the natural menopause group. In addition, women who underwent surgical menopause were found to be more than twice as likely to have insomnia. Furthermore, those women in the surgical menopause group who displayed more sleep-interfering behaviors had a higher severity of insomnia symptoms.

New Fact sheet: Complementary medicine options for menopausal symptoms consumer sheet
This new one-page fact sheet has been designed for patients to help navigate the safety and efficacy of a wide range of complementary medicine options. Using a simple traffic light colour coding system, one can see at a glance which are the safe and effective treatments. Explanations and warnings are contained in the comments box.
The sheet was developed by Clinical Associate Prof Amanda Vincent and assessed by focus groups of women attending both the Monash Health and Keogh Institute menopause clinics. It was rated very easy to understand and useful by these women.
Next time your patient tells you what they are taking you can use this sheet to steer them from red to green treatment options!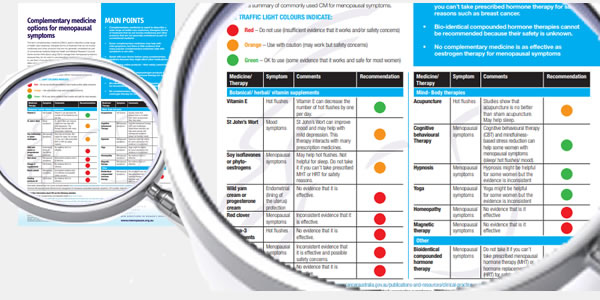 Vaginal problems diminish quality of life but often go unreported
A new survey documents high incidence of vulvovaginal atrophy and the negative effect on quality of life in postmenopausal women.
With symptoms such as dryness, burning, or itching of the vagina, vulvovaginal atrophy is estimated to affect up to 98% of postmenopausal women, many of whom will fail to report symptoms to their healthcare providers or seek help. A new survey demonstrates the negative effect of these symptoms on quality of life. The study results are published online today in Menopause, the journal of The North American Menopause Society (NAMS).
Vulvovaginal atrophy (VVA) is caused by a reduction in circulating estrogen and androgen levels after menopause that leads to thinning vaginal walls, less elasticity, and lower lubrication levels. In about 50% of postmenopausal women, VVA leads to symptoms such as vaginal dryness, which is the most frequent and a major contributor to sexual dysfunction. Because of a lack of education, many women view these symptoms as a natural part of the aging process and fail to report them to their healthcare providers.
Although few studies have been conducted to understand the relationship between VVA symptoms and quality of life (QOL), some survey data suggest that VVA is associated with a clinically significant effect on QOL comparable to that seen in conditions such as arthritis, asthma, and irritable bowel syndrome. The objective of the European Vulvovaginal Epidemiology Survey (EVES) was to describe the prevalence of VVA. More recent work based on a subanalysis of the EVES study focused on assessing the correlation of VVA symptoms with QOL of postmenopausal women. The survey results from more than 2,000 women were published in the article "The burden of vulvovaginal atrophy on women's daily living: implications on quality of life from a face-to-face real-life survey."
The authors of the article conclude that severe VVA symptoms have a direct association with worsened QOL in postmenopausal women. They suggest that healthcare providers recognize the effect of these symptoms as equivalent to those of other conditions and pathologies for which there is greater awareness.

New Information sheet: Bioidentical custom compounded hormone therapy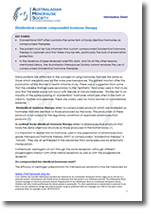 AMS is pleased to bring you an updated information sheet called Bioidentical custom compounded hormone therapy.
Many women are seeking a natural alternative to conventional menopausal hormone therapies and custom compounded therapies, often in the form of creams, troches and pessaries are widely used. Of concern is that safety data is either lacking or there is evidence of risks associated with these unregulated treatments.
The terms bioidentical and body-identical are defined and compared to conventional pharmaceutical products. Efficacy and safety issues are discussed. Pharmaceutical grade body- identical treatments are listed as an option for which we have adequate data.
Whilst this referenced sheet is aimed at doctors, we expect it to be downloaded and read by patients as it is usually one of our "top 10" sheets accessed from the website. It will be a useful resource for doctors responding to requests from patients wanting to use something both effective, natural and safe.

Updated Information Sheet: Venous thrombosis/thromboembolism risk and menopausal treatments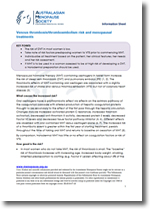 Prof Bronwyn Stuckey has revised the information sheet entitled Venous thrombosis/thromboembolism risk and menopausal treatments.
Many doctors and their patients are fearful of "blood clots" as a potential risk from taking menopausal hormone therapy (MHT). This information sheet looks at the causes of the increased risk, the size of the risk, and how to minimise it. For most women, especially of healthy weight, the risk of DVT is low. Women with a prior or family history of venous thrombosis can be carefully assessed to assist decisions on overall safety and the route of delivery for MHT. Transdermal oestrogen preparations with or without micronised progesterone confer the lowest risk of the currently available treatments.
Two excellent review articles are listed for additional reading, and the information sheet has updated references.
We hope this gives you more confidence to discuss this topic with your patients.

Join AMS for Member's only content
IMS Menopause Live: One more good reason to shed weight
In October, a new analysis [1] based on the data of the prospective observational Women's Health Initiative Study was published...
Comment
Epidemiological studies have provided convincing evidence that overweight and weight gain in the postmenopause are associated with an increased risk of breast cancer [2], while there have been contrasting results in studies looking at the benefit related to weight loss [3, 4]. In this recent publication, even modest weight loss of 5%, over a relatively short term, made the difference in terms of breast cancer risk reduction [1] in a group of postmenopausal, relatively older women, two-thirds of them being older than 60 years of age at baseline...
IMS Menopause Live: Statins: effects on bone density
Women with osteoporosis commonly have other co-morbidities and are often on medications that may impact on bone health. Whilst considerable focus has been directed toward treatments with deleterious effects on bone, other non-osteoporosis medications may have favorable effects on bone turnover...
IMS Menopause Live: Different effect of BMI on premenopausal and postmenopausal breast cancer risk
This article examined the findings from 31 prospective cohort studies of women between 30 and 79 years and involved over 3.3 million women [3]. The authors reported that there was no relationship between BMI and breast cancer risk in premenopausal women; however, in postmenopausal women, breast cancer risk increased by 3.4% for every 1 kg/m2 increment in BMI. When exploring the relationship between BMI and breast cancer further, the authors reported a reduction in risk of breast cancer with increasing BMI in studies of European women (relative risk (RR) 0.79, 95% CI 0.70–0.88) but not in Asian or American women, or the group as a whole...
Our Menopause World November 2018
See all the news... including the following articles:
A randomized controlled trial of exercise to prevent bone loss in premenopausal women with breast cancer.
This randomized controlled trial aimed at examining the effect of a 12-month exercise/strengthening program on bone mineral density in women treated for premenopausal breast cancer. Premenopausal women (n = 206) aged ≤  55 years at breast cancer diagnosis, who were within 2 years of receiving adjuvant chemotherapy, were randomized to a 12-month exercise program or to a control group. BMD was measured by dual-energy X-ray absorptiometry at baseline and after 1 year blood was drawn for skeletal markers...
Lifetime number of years of menstruation as a risk index for postmenopausal endometrial cancer in the Norwegian Women and Cancer Study
This study was carried out analyzing the data of women included in the Norwegian Women and Cancer Study. As lifetime number of years of menstruation reflects a woman's cumulative exposure to endogenous estrogen, it can be used as a measure of the combined effect of reproductive factors related to endometrial cancer risk. The aim of this study was to verify the association between lifetime number of years of menstruation (LNYM) and endometrial cancer risk among postmenopausal women. Moreover, the population attributable fraction of endometrial cancer for different LNYM categories was calculated...
European Menopause and Andropause Society (EMAS)
AMS is an affiliate of EMAS. See a copy of the EMAS Newsletter November 2018