New resources for midlife sexual health management
Sexual health is a state of physical, emotional, mental and social well-being related to sexuality. After menopause it is not uncommon for women to experience sexual problems which can severely impair their relationships, mental health, social functioning and overall quality of life. The good news is that it is treatable.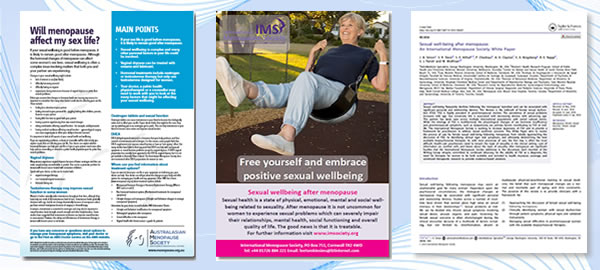 To mark World Menopause Day, occurring each October, the AMS developed a patient information sheet called "Menopause – will it affect my sex life?".
The International Menopause Society has also developed a patient information leaflet and a White Paper for health professionals.
Resources for health professionals and the White Paper Sexual well-being after menopause: an International Menopause Society White Paper can be found at https://www.menopause.org.au/hp/position-statements and resources for your patients can be found at https://www.menopause.org.au/health-info/resources
Sexual well-being after menopause: an International Menopause Society White Paper
Sexual wellbeing frequently declines following the menopause transition and can be associated with significant personal and relationship distress. This distress is the hallmark of female sexual dysfunction (FSD). The International Menopause Society is working to increase awareness of FSD and to provide a framework for practitioners to address sexual medicine concerns. This White Paper aims to review the process of care for female sexual well-being following menopause, from initially approaching the discussion of FSD, to identifying clinical signs and symptoms, and ultimately determining the best available biopsychosocial therapies.
Introduction (from White Paper)
Sexual wellbeing following menopause may seem anunattainable goal for many women. Dependent upon thepsychosocial circumstances, the biological changes atmenopause may be associated with significant personaland relationship distress. Studies across a number of countrieshave shown that women place high value on sexualintimacy in their relationships1,2. Sexual problems at midlifecan be divided into chronic sexual symptoms involvingsexual desire, arousal, orgasm, and pain. Screening for female sexual concerns is often short changed during the clinical encounter because of a multitude of factors including,but not limited to, misinformation, absent orinadequate physician/practitioner training in sexual medicine, the belief that such menopausal changes are a normal and inevitable part of ageing, and time constraints.The purpose of this review is to provide clinicians with aframework for:
(1) Approaching the discussion of female sexual wellbeing following menopause;
(2) Clinically identifying women with sexual dysfunctionthrough patient symptoms, physical signs and validated instruments;
(3) Managing sexual difficulties in postmenopausal womenwith the available biopsychosocial therapies.

Midlife women transitioning to menopause have a higher risk of metabolic syndrome, which predisposes to heart disease and type 2 diabetes
Midlife women transitioning to menopause may be able to lower their risk of developing heart disease and type 2 diabetes, if they exercise more or eat a lower calorie diet, according to a new study published in the Endocrine Society's Journal of Clinical Endocrinology & Metabolism.
Metabolic syndrome describes a cluster of risk factors that increase the chances of developing heart disease, stroke, and diabetes. The exact cause of metabolic syndrome is not known but genetic factors, too much body fat, and lack of exercise can add to its development. According to recent data, one in five Americans has metabolic syndrome. These patients are diagnosed when they have three or more of these risk factors: large amount of abdominal body fat, low ("good") cholesterol, high levels of fat in the blood, high blood pressure, and high blood glucose.
"Previous studies have largely focused on cardiovascular disease and type 2 diabetes in postmenopausal women. This study is unique because it focuses on an earlier stage in women's lives, the menopausal transition in midlife, to potentially prevent such diseases from occurring," said lead study author Jennifer S. Lee, M.D., Ph.D., Associate Professor of Medicine, Stanford Medical Center and the Veteran Affairs Palo Alto Health Care System in Stanford, Calif. "Discovering which modifiable factors like physical activity and a lower calorie diet are more common in midlife women who recover from metabolic syndrome, in this study, could better inform what preventive strategies to consider in women earlier in their lives."

Early onset of menopause and diabetes may limit life span
Only in science fiction novels can scientists predict people's lifespans. However, researchers have advanced the understanding of those risk factors that adversely affect mortality rates. A new study concludes that women who experienced early menopause lived shorter lives and spent fewer years without diabetes than women who experienced normal or late menopause.
It is a well-accepted fact in the medical community that both diabetes and early onset of natural menopause may be associated with early death. Emerging evidence shows an association between age at menopause and diabetes, with studies reporting almost a two-fold increased risk of type 2 diabetes with early onset of menopause. To date, however, there are no other known studies that have quantified (calculated the number of years lived with and without diabetes) the combined association of early menopause and type 2 diabetes with life expectancy.
In this study involving 3,650 postmenopausal women, the difference in life expectancy was compared in women experiencing early, normal, and late menopause, as well as in those with and without diabetes. Compared with late menopause (defined as menopause that occurs at age 55 years and older), the difference in life expectancy for women who experienced early menopause (defined as menopause that occurs at age 44 years or younger) was -3.5 years overall and -4.6 years in women without diabetes. Compared with age at normal menopause (defined as menopause that occurs at 45-54 years of age), the difference in life expectancy for women who experienced early menopause was -3.1 years overall and -3.3 years in women without diabetes.

Join AMS for Member's only content
IMS Menopause Live: The importance of a good night's sleep
The intuition of an association between sleep duration and mortality goes back to the 1970s. Since then, many prospective studies have suggested that short and long sleepers have an increased risk of all-cause and cause-specific mortality compared to subjects who sleep 7–8 hours per night...
IMS Menopause Live: 'Fat and fit' is not forever nor free of risk
A substantial contribution to the knowledge on the evolution of major chronic diseases in women has come from the Nurses' Health Study (NHS). With a new analysis of the data of over 90,000 female candidates during a 30-year timespan, researchers of the NHS aimed at examining cardiovascular disease risk in women with metabolic health, i.e. absence of diagnosed diabetes, hypertension and hypercholesterolemia, across different body mass index (BMI) categories...
IMS Menopause Live: Think twice before prescribing aspirin for older patients
ASPREE (ASPirin in Reducing Events in the Elderly) was a randomized, placebo-controlled trial of aspirin (100 mg enteric coated daily) versus placebo in people aged 65 + years and free of cardiovascular events at recruitment. A total of 19,114 Australians and Americans, screened to confirm normal cognition and no prior cardiovascular event at study entry, were recruited and followed on average for 4.7 years...
Duration of Hormone Therapy Use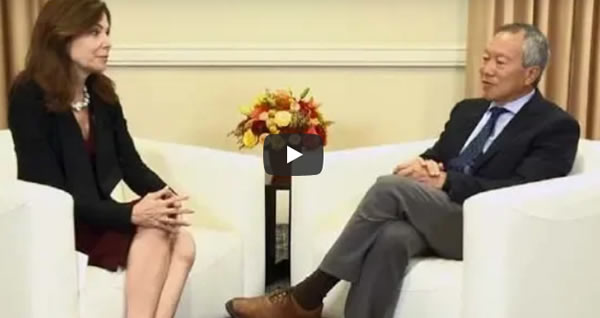 James H Liu, MD, NCMP
2018-2019 NAMS President
Arthur H Bill Professor and Chair
Department of Obstetrics and Gynecology
University Hospitals/MacDonald Women's Hospital
Department of Reproductive Biology
Case Western Reserve School of Medicine
Cleveland, OH USA
Dr James Liu discusses the risks and benefits of long-term therapy use.
Our Menopause World October 2018
See all the news... including the following article: A prospective study of dairy food intake and early menopause
Based on laboratory evidence suggesting a potential role of dairy foods in the ovarian aging process, this research group performed an epidemiologic study evaluating the relationship between dairy intake and risk of early menopause. In particular, intakes of total, low-fat, high-fat and individual dairy foods were analyzed in women of the Nurses' Health Study II...
European Menopause and Andropause Society (EMAS)
AMS is an affiliate of EMAS. See a copy of the EMAS Newsletter October 2018