New guidelines for the evaluation and treatment of perimenopausal depression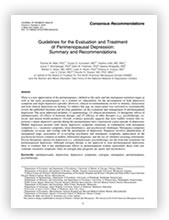 New "Guidelines for the Evaluation and Treatment of Perimenopausal Depression: Summary and Recommendations have been co-published in Journal of Women's Health and Menopause: The Journal of The North American Menopause Society. The Guidelines are published online here in Journal of Women's Health, a peer-reviewed publication from Mary Ann Liebert, Inc., publishers, and are available to download free until October 5, 2018.
The guidelines address 5 areas: epidemiology; clinical presentation; therapeutic effects of antidepressants; effects of hormone therapy; and efficacy of other therapies.
Among the recommendations:
When selecting antidepressants during perimenopause, a woman's prior history of antidepressant use should be considered.
Cooccurring sleep disturbances and night sweats should be considered as part of treatment for menopause-related depression.
While estrogen-based therapies may help improve clinical response to antidepressants, their use in older women should be considered with caution.

Chemotherapy may lead to early menopause in young women with lung cancer
A study suggests chemotherapy may cause acute amenorrhea leading to early menopause in women with lung cancer. The study is the first to comment on amenorrhea rates in women younger than 50, concluding that women with lung cancer who desire future fertility should be educated about risks and options before starting treatment.
According to the Mayo Clinic, although the rate of lung cancer diagnoses in men has decreased by 32% since 1975, it has risen 94% percent in women and now has surpassed breast cancer as the leading cause of cancer death in US women. Although lung cancer is more common in older adults, women are diagnosed at a younger age compared with men, and approximately 5,000 premenopausal US women are diagnosed with lung cancer annually. Extensive research of women receiving treatment for breast cancer has found that between 40% and 80% have premature menopause. However, early menopause rates after lung cancer treatments are understudied.
Unique to the premenopausal survivor population is the concern that systemic chemotherapy may cause acute amenorrhea and menopause, leading not only to hot flashes, vaginal dryness, and bone loss but also the possibility of loss of fertility. Premenopausal women with lung cancer may want children and should consult their healthcare providers about options for embryo and oocyte cryopreservation, the gold standard for fertility preservation.
The study included 182 premenopausal women (average age at diagnosis, 43 years). The Mayo Clinic Epidemiology and Genetics of Lung Cancer Research Program surveyed women between 1999 and 2016 at diagnosis and annually thereafter about their menstrual status. Types of lung cancer treatments were recorded, and frequencies of self-reported menopause at each survey were calculated.
The results of the study appear in the article "Amenorrhea after lung cancer treatment." Although the study is small, for the 85 women who received chemotherapy, 64% self-reported that they were menopausal within a year of diagnosis. Only 15% of the 94 patients who did not receive systemic therapy within a year of diagnosis experienced self-reported menopause. Three patients received targeted therapy alone, two of whom remained premenopausal at the final survey completed a median of 3 years after diagnosis. The results suggest that chemotherapy for patients with lung cancer increases the risk of the early loss of menses in survivors...

Risk of early menopause and exercise
The amount of physical activity that women undertake is not linked to their risk of early menopause, according to the largest study ever to investigate this question.
Until now, there have been conflicting findings about the relation between physical activity and menopause, with some studies suggesting that women who are very physically active may be at lower risk of a menopause before the age of 45, while others have found evidence of the opposite effect.
However, the study that is published in Human Reproduction [1], one of the world's leading reproductive medicine journals, has analysed data from 107,275 women, who were followed prospectively from the time they joined the Nurses' Health Study II in 1989 until 2011, and found no association between physical activity at any age and early natural menopause.
Dr Elizabeth Bertone-Johnson, Professor of Epidemiology at the University of Massachusetts, USA, who directed the research, said: "Our study provides considerable information in helping us understand the relationship between activity and timing of menopause; this is because of its size, its focus on early menopause specifically, and because of its prospective design, which limited the likelihood of bias and allowed us to look at physical activity at different time periods.
"Several previous well-designed studies have found suggestions that more physical activity is associated with older age at menopause, but even in those studies the size of the effect was very small. Our results, in conjunction with other studies, provides substantial evidence that physical activity is not importantly associated with early menopause."
Female US registered nurses aged 25-42 were enrolled in the Nurses' Health Study II in 1989 and they completed questionnaires about lifestyles and medical conditions every two years thereafter. They were asked about the time they spent in recreational physical activities such as walking, running, cycling, racquet sports, swimming laps, aerobic activities, yoga, weight training and high intensity activities such as lawn mowing. The researchers also collected information on factors such as race, ethnicity, age, education, height, the age when the women had their first periods, whether or not they had been pregnant and how often, use of oral contraceptives and hormone therapy, whether or not they smoked, weight and body mass index (BMI), diet and use of dietary supplements...

Obesity and vitamin D deficiency may indicate greater risk for breast cancer
Vitamin D is already well known for its benefits in building healthy bones. A new study supports the idea that it also may reduce cancer risk as well as breast cancer mortality, especially in women with a lower body mass index.
Breast cancer remains the most common cancer in women worldwide and is the leading cause of death from cancer in women. Reproductive risk factors such as early onset of puberty, late menopause, later age at first pregnancy, never having been pregnant, obesity, and a family history have all been shown to be associated with breast cancer development. The role of vitamin D concentration in the development of breast cancer, however, continues to be debated.
This study involving more than 600 Brazilian women suggests that vitamin D may reduce cancer risk by inhibiting cell proliferation. Study results appear in the article "Low pretreatment serum concentration of vitamin D at breast cancer diagnosis in postmenopausal women."
Researchers involved in the study concluded that postmenopausal women had an increased risk of vitamin D deficiency at the time of their breast cancer diagnoses, associated with higher rates of obesity, than women of the same age group without cancer. Similar studies also have previously demonstrated a relationship between vitamin D and breast cancer mortality. Women in the highest quartile of vitamin D concentrations, in fact, had a 50% lower death rate from breast cancer than those in the lower quartile, suggesting that vitamin D levels should be restored to a normal range in all women with breast cancer.

Join AMS for Member's only content
Effects of Stress on Health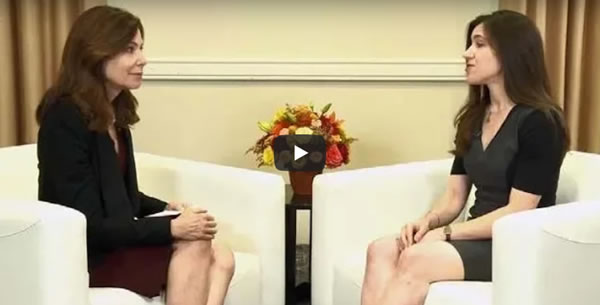 Dr Rebecca Thurston
Director of the Women's Biobehavioral Health Laboratory and Professor of Psychiatry, Psychology, Epidemiology, and Clinical and Translational Science at the University of Pittsburgh.
Dr Rebecca Thurston discusses current research regarding the effects of stress on health.
Our Menopause World September 2018
See all the news including the following article:
A White Paper – Sexual well-being after menopause
Authored by J. A. Simon, S. R. Davis, S. E. Althof, P. Chedraui, A. H. Clayton, S. A. Kingsberg, R. E. Nappi, S. J. Parish and W. Wolfman, this White Paper aims to review the process of care for female sexual well-being following menopause, from initially approaching the discussion of FSD, to identifying clinical signs and symptoms, and ultimately determining the best available biopsychosocial therapies. This document addresses processes of care and acknowledges that the first step is often the most difficult. Health-care practitioners need to broach the topic of sexuality in the clinical setting. Lack of information on, comfort with, and biases about the topic of sexuality after menopause are significant hurdles addressed.
European Menopause and Andropause Society (EMAS)
AMS is an affiliate of EMAS
See a copy of the EMAS Newsletter September 2018