AMS Information Sheet Updates
The AMS Guide to equivalent MHT/HRT doses information sheets have been updated to include revised prescriptions for Prometrium (Australia) and Utrogestan (New Zealand) as well as doses of Climara (New Zealand).
See AMS Guide to Equivalent MHT/HRT Doses Australia only
and AMS Guide to Equivalent MHT/HRT Doses New Zealand only

Genitourinary syndrome of menopause: Common problem, effective treatments.
After menopause, about half of all women experience genital, sexual, and urinary symptoms associated with decreases in estrogen, termed genitourinary syndrome of menopause.
First-line therapies are non-hormonal vaginal lubricants and moisturizers.
For persistent symptoms, prescription estrogen in cream and ring formulations is effective.

Estrogen may protect against depression after heart attack
Estrogen may protect against heart failure-related depression by preventing the production of inflammation-causing chemicals in the brain. The study is published ahead of print in the American Journal of Physiology - Heart and Circulatory Physiology.
Research suggests that people with heart failure--including those who survive heart attacks--are two to three times more likely to suffer from depression than the general population. The reason for heart failure-related depression is thought to be increased inflammation in the brain. Previous studies have also found that post-menopausal women with heart disease have a greater risk of depression than younger women and men of all ages.
Researchers from the University of Ottawa Heart Institute and Brain and Mind Institute in Canada studied a rat model of heart failure after heart attack. Adult female rats without ovaries--mimicking menopause--were compared to adult males and adult females with ovaries. Half of the "menopausal" rats received estrogen supplements while the other half did not. Sex-matched rats without heart failure served as controls...

Body size and postmenopausal breast cancer
Body size is an important modifiable risk factor for postmenopausal breast cancer. However, it remains unclear whether direct measures of fat mass are better indicators of risk than anthropometric measures, or whether central adiposity may contribute to risk beyond overall adiposity. We analyzed data from 162,691 postmenopausal women in the UK Biobank followed from 2006 to 2014. Analyses were stratified by age at recruitment, region, and socioeconomic status, and adjusted for family history of breast cancer, age at menarche, age at first birth, parity, age at menopause, previous hormone replacement therapy use, smoking, alcohol intake, height, physical activity, and ethnicity.
We observed 2913 incident invasive breast cancers during a mean 5.7 years of follow-up. There was a continuous increase in risk of postmenopausal breast cancer with increasing adiposity, across all measures. The point estimate, comparing women in the top (median 37.6 kg) to bottom (median 17.6 kg) quartile of body fat mass was 1.70 (95% CI 1.52–1.90).

22nd AMS Congress 2018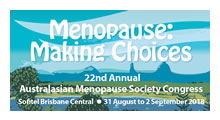 The members of your Local Organising Committee are delighted to invite you to attend the 22nd AMS Congress.
Expand your knowledge on
- primary vs secondary prevention of chronic disease
- choices for risk reduction surgery
- hormonal vs non-hormonal management of menopause
- diet vs pharmacotherapy vs surgery for weight management
- gender choices

To view the full program, click here

Join AMS for Member's only content
Nonhormone Prescription Options for Hot Flushes - NAMS Video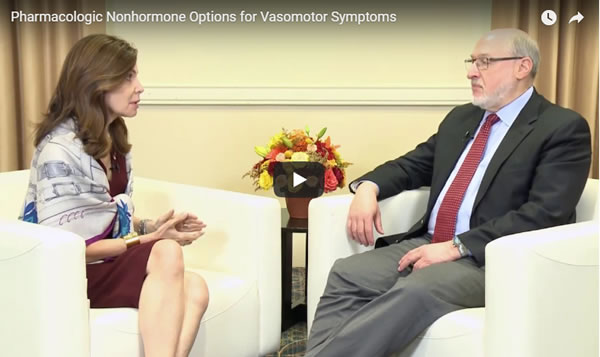 James A Simon, MD, CCD, NCMP, IF, FACOG
Clinical Professor
Department of Obstetrics and Gynecology
The George Washington University School of MedicineWashington, DC

Dr Simon explains the efficacy of nonhormone options for hot flushes.
Screening for osteoporosis: clinical implications of the USPSTF 2018 recommendations
As the world-wide population ages, it is projected that the number of persons living with osteoporosis will also increase. Osteoporosis is usually asymptomatic until a fracture occurs, and preventing osteoporotic fractures is the main goal of an osteoporosis screening strategy. Osteoporosis justifies a screening program because it is an important public health problem and effective treatments are available. The objectives of bone mineral density (BMD) measurements are to provide diagnostic criteria, prognostic information on the probability of future fractures, and a baseline status to follow the evolution of the disease. Dual-energy X-ray absorptiometry (DXA) is the most widely used bone densitometric technique for this purpose.
Does Menopausal Hormone Therapy Prevent Hyperkyphosis?
In addition to its negative aesthetic impact, hyperkyphosis — an exaggerated anterior curvature of the thoracic spine — is associated with increased risk for falls, fractures, and premature mortality. Investigators used data from a longitudinal, multicenter, observational U.S. study of almost 10,000 community dwelling women 65 and older recruited in the 1980s. They analyzed the association of self-reported menopausal hormone therapy (HT) use and kyphosis in 1063 women (mean age at year 15 year, 83.7) with evaluable baseline spine x-rays and follow-up films at 3.7 and 15 years. In all, 46% had never used HT, 24% had remote past use, 17% were intermittent users (current use reported at 1 to 5 of 7 visits), and 12% were continuous users (current use reported at 6 or more of 7 visits).