About vaginal dryness
It's a common problem that only gets worse during the menopause transition; yet, no one wants to talk about it, and even fewer women are doing anything to correct it. A study identifies those factors that contribute to the taboo problem of vaginal dryness.
Many women experience vaginal dryness during menopause, which often manifests as burning, itching, or lack of lubrication during sexual activity, and they have a lot of company. Data from the Study of Women Across the Nation (SWAN) tracked more than 2,400 women over a 17-year-period showed that, at baseline, 19.4% of women (aged 42-53 y) reported vaginal dryness. By the time the women in the study were aged 57 to 69 years, 34% of them complained of symptoms.
More surprising, however, is the fact that more than 50% of women don't report vaginal dryness to their healthcare providers, and less than 4% of affected women are actively using any of the many proven therapies that include vaginal estrogen tablets, creams, and rings, according to "Factors associated with developing vaginal dryness symptoms in women transitioning through menopause: a longitudinal study," the Menopause article detailing the study results.

Hormone therapy may lead to improved cognitive function
Hormones affect just about everything that goes on in a woman's body, from reproductive function and sexual libido to weight gain and overall mood. A new study shows how, in the right dosage and combination, hormones also may slow cognitive decline in postmenopausal women as they age.
It comes as no surprise that cognitive function declines as we age. We recognize memory decline in a number of ways, such as not being able to remember a grocery list as easily as we once did. Mild cognitive impairment (MCI) is defined as that intermediate stage between normal aging and dementia. Persons with MCI have an increased risk of progressing to Alzheimer disease or other dementia, with roughly 20% of this population crossing over from MCI to a more severe level each year. To date, no pharmacologic treatment has proven effective in managing MCI.

Midlife Women and Sleep - Study
Are you on the brink of menopause, going through menopause, or newly post-menopausal? Are you sick and tired of getting a bad night's sleep?
A psychology honours student at the University of New England is investigating different behaviours and their effects on women's sleep at midlife.
Your involvement in this study will further science, might improve your sleep, and could help to improve behavioural treatments for midlife women with sleep problems.

Climara 50mcg Patch Shortage
The Therapeutic Goods Administration (TGA) have reported an anticipated shortage of CLIMARA 50 mcg transdermal patches with supply due to return on 31 July 2018.
22nd AMS Congress 2018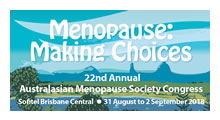 The members of your Local Organising Committee are delighted to invite you to attend the 22nd AMS Congress.
Expand your knowledge on
- primary vs secondary prevention of chronic disease
- choices for risk reduction surgery
- hormonal vs non-hormonal management of menopause
- diet vs pharmacotherapy vs surgery for weight management
- gender choices

To view the full program, click here

Menopause Essentials Update: Focus on genitourinary issues
The AMS Board is pleased to present this Menopause Update: Focus on genitourinary issues in association with the 44th ASPOG Annual Scientific Meeting.

This workshop is targeted at all GPs, specialists, allied health workers and other health professionals who are interested in the genitourinary conditions specific to menopause and general women's midlife health.
Speakers and topics include:
Menopause basics: Dr Michele Kwik
Vulvovaginal atrophy: Dr Ann Olssen
Vulval disorders: Dr Ann Olssen
Urinary incontinence: Dr Lucy Bates
Morning tea is included
Date: Thursday 2 August 2018
Time: 9.00am to 12.30pm
Venue: Western Sydney University, Paramatta NSW
Download flyer here
For bookings
Go to the 44th ASPOG ASM 2018 Registration Site and for Menopause Essentials Update: Focus on genitourinary issues only
MEU only here

To register for 44th ASPOG Annual Scientific Meeting and the Menopause Essentials Update: Focus on genitourinary issues:
ASPOG Meeting and MEU here

Join AMS for Member's only content
What We Know About Estrogen and Cardiovascular Health - NAMS Video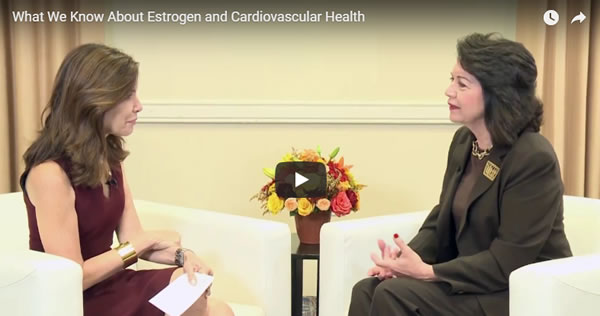 Dr Cynthia Stuenkel
Clinical Professor of Medicine, University of California San Diego.
Dr Stuenkel explains the safety and efficacy of estrogen throughout a woman's life stages.
IMS Live: Food and Mood
When any food is served, we examine it by its esthetics, color, smell and taste, and the end evaluation is summarized by a simple question that echoes in our mind: did we like it? So food is not just nourishment. It may have psychic effects of all sorts. We enjoy food, we speak about food, eating together may be a social event. The relationships between dietary glycemic index, glycemic load, and other carbohydrate measures (added sugars, total sugars, glucose, sucrose, lactose, fructose, starch, carbohydrate) and depression in the women who participated in the Women's Health Initiative Observational Study at baseline (n = 87,618) and at the 3-year follow-up (n = 69,954) were investigated [1]. The results suggested that high glycemic index diets could be a risk factor for depression in postmenopausal women. What we eat is usually categorized as healthy or unhealthy, depending on its contents. Studies are still being published to demonstrate the advantage of raw, plant-based foods over processed foods. As an example, a recent study in young adults showed that raw fruit and vegetable intake predicted reduced depressive symptoms and higher positive mood, life satisfaction, and flourishing [2]...
NAMS Menopause Care Updates
NAMS presents the June issue of Menopause Care Updates, featuring summaries and in-depth commentaries on recent scientific articles chosen to inform and influence current clinical menopause practice.
European Menopause and Andropause Society (EMAS)
AMS is an affiliate of EMAS so receives their newsletter.