Diet and the start of the menopause
In the first UK study examining the relationship between diet and the start of the menopause researchers have found certain food groups could affect the age at which the menopause begins.
Research by the University of Leeds has examined the links between diet and the onset of menopause in British women. The study showed that high intake of healthy foods, such as oily fish and fresh legumes, such as peas and green beans were associated with a later onset of the menopause, while a high consumption of refined white pasta and rice was associated with an earlier start.
The study used data from more than 14,150 women living in the UK. Along with a detailed diet questionnaire, an initial survey collected information on reproductive history and health. When a follow up survey and questionnaire were conducted four years later, researchers were able to assess the diets of the women who had experienced the onset of a natural menopause in the interim.
The average age at the start of the menopause for women in the UK is 51 years. More than 900 women between the ages of 40 and 65 had experienced a natural start of their menopause at the time of the follow-up survey, meaning they had not had menstrual periods for at least 12 consecutive months and menopause had not been brought on by such things as cancer, surgery or pharmaceutical treatments.
Analysis of their diet showed that high intakes of oily fish were associated with a delayed start to menopause by nearly three years. A diet with lots of refined pasta and rice showed that menopause was more likely to occur one and a half years earlier than average.

What is Menopausal Hormone Therapy (MHT) and is it safe?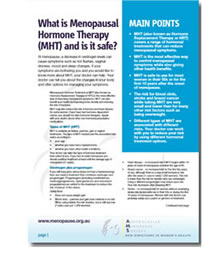 This is the latest of the AMS Fact Sheets now generally available from the website. It is designed patients as a companion sheet to the popular videos, and the other more detailed AMS Information Sheets.
Main points
MHT (also known as Hormone Replacement Therapy or HRT) covers a range of hormonal treatments that can reduce menopausal symptoms.
MHT is the most effective way to control menopausal symptoms while also giving other health benefits.
MHT is safe to use for most women in their 50s or for the first 10 years after the onset of menopause.
The risk for blood clots, stroke and breast cancer while taking MHT are very small and lower than for many other risk factors such as being overweight.
Different types of MHT are associated with different risks. Your doctor can work with you to reduce your risk by using different hormonal treatment options.

Anxiety and bone health
Higher levels of anxiety increase fracture risk in postmenopausal women.
Anxiety has already been shown to take its toll on the human body in many ways, including increased risk for heart disease and gastrointestinal disorders. Now a new study demonstrates how anxiety levels are linked to an increased risk of bone fractures in postmenopausal women.
Fracture risk is a major concern for women as they age, with one in three women worldwide estimated to suffer an osteoporosis-related fracture during her lifetime. With people living longer, the frequency of osteoporotic fractures is growing and therefore driving up healthcare costs. This has led to an increased focus on accurately assessing patients for fracture risk.
Previous studies have shown that participants with anxiety disorders were 1.79 times more likely to develop osteoporosis than were those without anxiety. In the article "Anxiety levels predict fracture risk in postmenopausal women assessed for osteoporosis," study results demonstrate how anxiety levels in postmenopausal women are associated with bone mineral density, a key indicator of fracture risk, of the lumbar spine and femoral neck.
Of the 192 postmenopausal women recruited to the study, those with the lowest levels of anxiety showed a lower probability of fracture than did the women with higher anxiety scores. In addition, anxiety levels were significantly related to age, menopause age, years since menopause, and depressive symptoms.

22nd AMS Congress 2018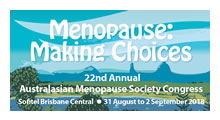 The members of your Local Organising Committee are delighted to invite you to attend the 22nd AMS Congress.
Expand your knowledge on
- primary vs secondary prevention of chronic disease
- choices for risk reduction surgery
- hormonal vs non-hormonal management of menopause
- diet vs pharmacotherapy vs surgery for weight management
- gender choices

To view the full program, click here
Grow your network of collaborators and showcase your latest research at AMS 2018.

Abstract submissions are now open, please click here to view abstract guidelines.
Applications for scholarships and travel grants to attend the Congress are now open here.

*Earlybird registration, abstract submission, scholarship and travel grant application deadline: Friday 1 June.
Menopause Essentials Update: Focus on genitourinary issues
The AMS Board is pleased to present this Menopause Update: Focus on genitourinary issues in association with the 44th ASPOG Annual Scientific Meeting.

This workshop is targeted at all GPs, specialists, allied health workers and other health professionals who are interested in the genitourinary conditions specific to menopause and general women's midlife health.
Speakers and topics include:
Menopause basics: Dr Michele Kwik
Vulvovaginal atrophy: Dr Ann Olssen
Vulva disorders: Dr Ann Olssen
Urinary incontinence: Dr Lucy Bates
Morning tea is included
Date: Thursday 2 August 2018
Time: 9.00am to 12.30pm
Venue: Western Sydney University, Paramatta NSW
Download flyer here
For bookings
Go to the 44th ASPOG ASM 2018 Registration Site and for Menopause Essentials Update: Focus on genitourinary issues only
MEU only here

To register for 44th ASPOG Annual Scientific Meeting and the Menopause Essentials Update: Focus on genitourinary issues:
ASPOG Meeting and MEU here

Join AMS for Member's only content
Complementary medicine options for menopausal symptoms
Main Points
Complementary medicine is used to describe a wide range of health care medicines, therapies (forms of treatment that do not involve medicines) and other products that are not generally considered as part of conventional medicine
Some complementary medicines may help with mild symptoms, but there is little evidence that many popular complementary medicines help with symptoms or are safe.
Speak with your doctor before using complementary medicine because they might affect other medications.
Avoid buying online products – their safety cannot be guaranteed.
You should not use soy/ phytoestrogen products if you can't take prescribed hormone therapy for safety reasons such as breast cancer.
Bio-identical compounded hormone therapy cannot be recommended because their safety is unknown.
No complementary medicine is as effective as oestrogen therapy for menopausal symptoms
Available to Members now.
Wealth and health are connected
A famous saying goes: It is better to be rich and healthy than poor and sick. A side-saying broadens this simple fact by clarifying that you would better be rich if you are sick. There have been numerous studies on the association of socioeconomic status with health and disease, and there is no need to enlarge on that. However, a new study from the United States, where money really talks, has found alarming data that must be discussed by the citizens and their administration. The study analyzed data on a cohort of 51–61-year-old people at baseline, who were followed long-term. The participants of the Health and Retirement Study gave detailed information on their wealth (housing, businesses, individual retirement accounts, cash and savings accounts, investment holdings, loans, debts, etc.), and accordingly were grouped into wealthy or poor...
Our Menopause World May 2018
What the Women's Health Initiative has taught us about menopausal hormone therapy
Although the Women's Health Initiative (WHI) demonstrated increased risk of CVD events with MHT in the overall cohort, subsequent secondary analyses demonstrated that these risks were influenced by the woman's age and time since menopause, with lower absolute risks and hazard ratios for younger than older women. As MHT is the most effective treatment for the vasomotor symptoms of menopause, it is important to understand its risks and how to conduct risk stratification for symptomatic women. In addition to reviewing the WHI findings, studies pre- and post-WHI are reviewed to describe the relationship between MHT and CVD risk in menopausal women. The absolute risks of adverse cardiovascular events for MHT initiated in women close to menopause are low, and all-cause mortality effects are neutral or even favorable for younger menopausal women. The WHI has advanced and refined our understanding of the relationship between MHT and CVD risk. Although MHT should not be used for CVD prevention, absolute risks of CVD are low when MHT is started close to menopause in healthy women and hazard ratios tend to be lower for younger than older women. For women in early menopause and without contraindications to treatment, the benefits of MHT are likely to outweigh the risks when used for menopausal symptom management...
The impact of menopausal hormone therapy (MHT) on cardiac structure and function: Insights from the UK Biobank imaging enhancement study.
This cross-sectional study examined the impact of MHT on left ventricular (LV) and left atrial (LA) structure and function, alterations in which are markers of subclinical cardiovascular disease, in a population-based cohort. Postmenopausal women who had never used MHT and those who had used MHT ≥ 3 years participating in the UK Biobank who had undergone cardiovascular magnetic resonance (CMR) imaging and free of known cardiovascular disease were included. Multivariable linear regression was performed to examine the relationship between cardiac parameters and MHT use ≥ 3 years. To explore whether MHT use on each of the cardiac outcomes differed by age, multivariable regression models were constructed with a cross-product of age and MHT fitted as an interaction term. Of 1604 postmenopausal women, 513 (32%) had used MHT ≥ 3 years. In the MHT cohort, median age at menopause was 50 (IQR 45–52) years and median duration of MHT was 8 years. In the non-MHT cohort, median age at menopause was 51 (IQR 48–53) years. MHT use was associated with significantly lower LV end-diastolic volume (122.8 ml vs. 119.8 ml, effect size = -2.4%, 95% CI -4.2% to -0.5%; p = 0.013) and LA maximal volume (60.2 ml vs. 57.5 ml, effect size = -4.5%, 95% CI -7.8% to -1.0%; p = 0.012). There was no significant difference in LV mass. MHT use significantly modified the effect between age and CMR parameters; MHT users had greater decrements in LV end-diastolic volume, LV end-systolic volume and LA maximal volume with advancing age. MHT use was not associated with adverse, subclinical changes in cardiac structure and function. Indeed, significantly smaller LV and LA chamber volumes were observed which have been linked to favorable cardiovascular outcomes...
Climacteric E-alert - Volume 21, Number 3
EDITORIAL: Screening for women at midlife: we need to remain vigilant
Robin J. Bell, Associate Editor
Not surprisingly, there is a strong emphasis on screening for cancer, although clearly the concept of screening has a much broader application. Nevertheless, the focus on screening for cancer fits with the increasing concern women have about cancer as they age. There is also an emphasis on the 'gender-specific' cancers of breast (although men develop breast cancer, their risk is much lower than it is for women), cervix and ovary, although we need to remember the important contribution of lung and bowel cancers to cancer deaths in women.
REVIEW: Should women be screened for osteoporosis at midlife?
T. J. de Villiers
Osteoporosis and associated fractures are common in women after midlife and cause a significant increase in morbidity and mortality. It is thus appropriate to estimate the future risk of fracture in all women at the age of 50 years or at menopause, whichever occurs first...
REVIEW: Bowel cancer screening for women at midlife
I. Olver
Colorectal cancer is a common condition world-wide. The incidence can be significantly reduced by simple lifestyle measures. In Australia, Evidence-based Clinical Practice Guidelines for the prevention, early detection and management of colorectal cancer recommended that 'population screening directed at those at average risk is immunochemical fecal occult blood testing every 2 years, starting at age 50 years and continuing to age 74 years.'