20th AMS Congress - Registration now open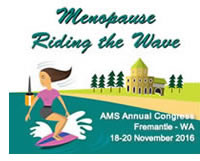 Attend our Congress at the Esplanade Hotel in Fremantle, right in the heart of the art and cafe culture of the historic port city and close by to beaches, the Swan river and Rottnest Island.
Register now
Earlybird registration is open until
15 September at www.promaco.com.au/ams2016
Submit an abstract!
AMS invites the submission of papers on original work for consideration for the Congress Program. Authors are invited to submit abstracts for 15 minute oral and/or poster presentations for consideration by the AMS Scientific Program Committee.
Abstracts may be submitted on any topic relevant to the menopause and its treatment. A link to Guidelines in Preparing and formatting your abstract are available from the AMS Website.
Abstract submissions close 13 August 2016.
Memory and hormone therapy after menopause
Contrary to popular belief, taking estrogen after menopause may not affect the memory and thinking abilities of healthy women no matter when the treatment is started.
The study is among the first large, long-term clinical trial to examine the cognitive effects of estradiol, a type of estrogen, on women both close to and long after menopause.
Millions of women take estrogen to treat hot flushes, night sweats and other symptoms caused by menopause. Estradiol is the main type of estrogen produced by women in their reproductive years.
Previously, researchers thought estradiol benefitted memory and thinking in women soon after menopause but not later, called the "timing hypothesis". Prior studies testing the theory have not found consistent results.
Certain characteristics predispose women to different hot flush and night sweat patterns
Most women will get hot flushes or night sweats at some point in life. However, when these symptoms occur and how long they last can vary dramatically among women. New findings show that women fit into four distinct groups when it comes to getting hot flushes and night sweats, with potential ramifications for therapy and prevention of future health conditions.

"Most women get vasomotor symptoms, and we used to think these symptoms lasted from three to five years, right around the time of the final menstrual period," said senior author Rebecca Thurston, PhD, a professor in Pitt's Department of Psychiatry and an epidemiologist at Pitt Public Health. "We now know that these symptoms persist for far longer - typically seven to 10 years - and occur at different times for different women. This is strong evidence that we need to further investigate the underlying physiological causes of vasomotor symptoms and their link to potentially preventable health conditions."

Menopause symptoms and relationship to demographic and psychosocial factors
More data analysis about hot flushes from the Study of Women's Health Across the Nation (SWAN) has been published.
The study by Ping G. Tepper, PhD, and colleagues shows that the progression of vasomotor symptoms (VMS) across the menopause transition appears to be significantly and independently associated with a number of sociodemographic, reproductive hormone, and psychosocial factors.
Vasomotor symptoms (hot flushes and night sweats) are the classic menopause symptoms. Prevalence of VMS is high during and after the menopause transition, and individual women have significant variations in the timing of onset and course of VMS. Hormonal, psychosocial, lifestyle, health, and biological factors have all been previously associated with VMS.
SWAN was a multisite longitudinal community-based study of 3,302 women (aged 42-52 years at enrollment) transitioning through menopause from February 1996 through April 2013. The women belonged to one of five racial/ethnic groups: white, black, Japanese, Chinese, and Hispanic. This study sample included 1,455 women with nonsurgical menopause: almost half of the women (47.3%) were non-Hispanic white; 25.8% were black; 11.5% were Japanese; 9.8% were Chinese; and 5.6% were Hispanic. Median follow-up was 15.4 years; median age of menopause was 52.2 years.
The pattern of estradiol levels over the menopause transition was significantly associated with VMS patterns. Low levels of estradiol were important for VMS occurrence, especially in the early and persistently high VMS groups. When FSH levels were substituted for estradiol levels in the analysis, similar associations between participant characteristics and VMS group were found. FSH levels did not distinguish the VMS groups, except that women in the high VMS group were more likely to have high FSH levels relative to the low group. These results seem to show that hormones, race/ethnicity, BMI, education, smoking, drinking alcohol, general health status, anxiety, and depression have a strong relation to the timing and persistence of VMS in a diverse population of midlife women...

A model of care for healthy menopause and ageing: EMAS position statement
A new position statement by the European Menopause and Andropause Society (EMAS) was published in the journal Maturitas in July and discusses a holistic model of care for healthy menopause.
Key points
The conceptual framework of the Healthy Menopause and Ageing is a holistic model of care incorporating disease and disability.
Healthcare model's core: lead clinician, specialist nurse, patient, interdisciplinary network of health and allied health professionals.
Provision of specialist teams in Europe needs to be expanded, as the number of women ("baby-boomers") currently reaching menopause is increasing.
Accreditation of the subspecialty Women's Health should be actively promoted.
Join AMS for Member's only content
See exclusive commentary on studies such as:

Risk parameters for duration and peak severity of hot flushes

This study brings some new insights on the dynamics of hot flushes, as the existing knowledge on the relevant risk factors for longer duration or time to peak severity is limited. As previously described, non-white women (primarily African-American women) were more likely to have hot flushes than white women, which could be the result of higher BMIs or different estradiol levels...

Cognitive functions, menopause and hormone therapy – an update

Decades ago, postmenopausal hormone replacement (HT) was considered the panacea for midlife women. Prevention of the age-related cognitive decline was among the top alleged benefits of this therapy. However, the data from the WHI-WHIMS study showed the opposite, indicating worsening of several cognitive domains in hormone users [1,2]. Since WHIMS recruited women who were 65 years or older, it became crucial to investigate the effects of HT in the early menopause as well. Alzheimer's disease (AD) is more prevalent in women, who have two-fold greater lifetime risk of developing AD compared to men...


Postmenopausal hormone therapy and risk of stroke: impact of the route of estrogen administration and type of progestogen

The differential association of oral and transdermal estrogens with stroke remains poorly investigated. Furthermore, there are no data regarding the impact of progestogens. This was a nested case-control study of ischemic stroke (IS) within all French women aged 51–62 years between 2009 and 2011 without personal history of cardiovascular disease or contraindication to hormone therapy. Participants were identified using the French National Health Insurance database, which includes complete drug claims for the past 3 years, and French National hospital data...

FRAX updates 2016

In the 8 years since the launch of the FRAX tool, it has continued to grow with the addition of new country or territory models. Although the core of the fracture risk algorithm remains unchanged, there is growing evidence of possible additional independent clinical variables that might modulate the interpretation of the FRAX outputs. There is also an expanding number of international guidelines that incorporate FRAX assessments, leading to discussions on the use of FRAX in treated patients and the determination of intervention thresholds....