The Assessing and Managing Menopause Active Learning Module (ALM) has been developed for General Practitioners who are interested in learning more about the management of menopause in primary practice.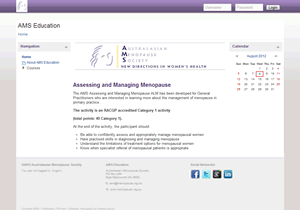 The activity is an RACGP accredited Category 1 activity (total points: 40 Category 1).
Learning Objectives
At the end of the activity, the participant should:
Be able to confidently assess and appropriately manage menopausal women
Have practised skills in diagnosing and managing menopause
Understand the limitations of treatment options for menopausal women
Know when specialist referral of menopausal patients is appropriate
Website: http://education.menopause.org.au/
ALM Registration
To undertake the ALM, it is necessary for all participants to:
1. Enrol for the ALM package
ALM enrolments are being managed by the AMS Secretariat. Participation in the ALM will be free of charge to all AMS Members i.e. paid to December 2013. For non-members, a $50 fee will apply.
Go to AMS ALM 2013 Registration to enrol online
http://www.menopause.org.au/health-professionals/ams-congress-2013/alm-registration-request

Enrolled participants will be provided with a password to access the online module and complete each of the parts of the ALM.
2. Also register and pay to attend the Australasian Menopause Society Pre-congress Update
This will be in Adelaide from 9am to 12.30pm on Friday 6 September, 2013
For registration details go to: www.sapmea.asn.au/conventions/ams2013/rego.html
ALM Content Outline 2013
Part 1 – Predisposing Activity (30 mins)
This must be completed before proceeding to Part 2
Part 2 – Attend Pre-Congress Update 6 September, in Adelaide (3 hours)
Part 3 – Complete Case Studies Activity (1.5 Hours)
Part 4 – Complete Research Update Activity (1.5 Hours)
Part 5 – Complete Reinforcing Activity Evaluation (30 mins)
Part 6 – Evaluation
Content updated 21 July 2013