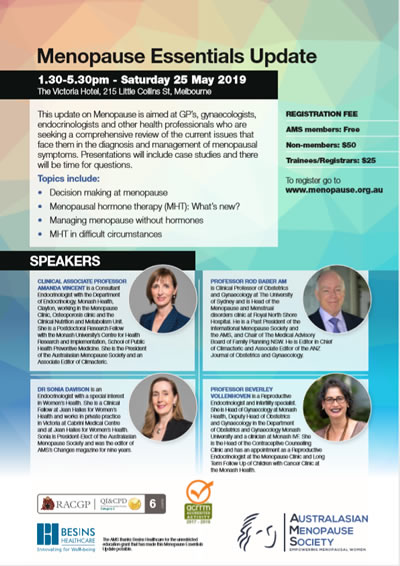 The AMS Board is pleased to continue this very popular Menopause Essentials Update series.
Upcoming Presentations
Saturday 25 May 2019
1.30-5.30pm
The Victoria Hotel, 215 Little Collins St, Melbourne
This update on Menopause is aimed at GP's, gynaecologists, endocrinologists and other health professionals who are seeking a comprehensive review of the current issues that face them in the diagnosis and management of menopausal symptoms. Presentations will include case studies and there will be time for questions.
Topics include:
Decision making at menopause
Menopausal hormone therapy (MHT): What's new?
Managing menopause without hormones
MHT in difficult circumstances
Download flyer here:

Menopause Essentials Update May 2019851.96 KB
Speakers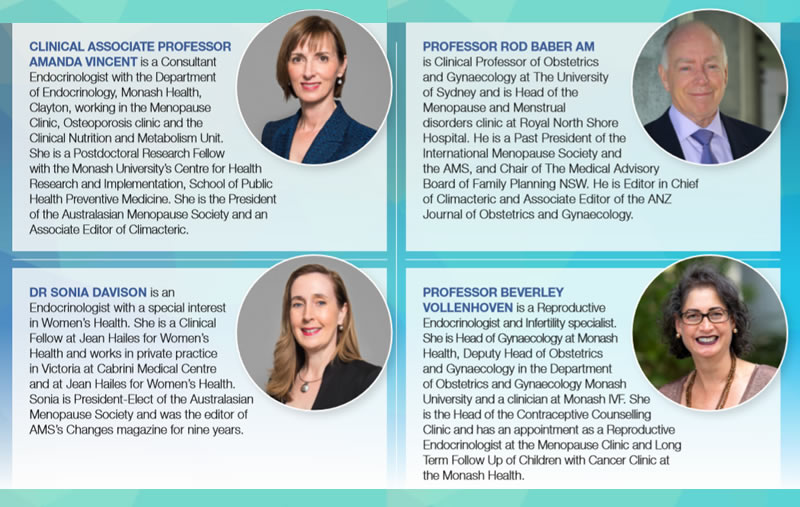 Register
Go to Trybooking at: https://www.trybooking.com/BAEOV
Continuing Education

Royal Australian and New Zealand College of Obstetricians and Gynaecologists (RANZCOG) Approved O&G Workshop (Clinical Expertise Domain) 3 PD points.
Support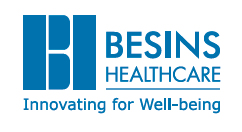 The AMS thanks Besins Healthcare for the unrestricted education grant that has made this Menopause Essentials Update possible.
Content updated February 2019